Theme Park Industry Facts & Figures
The phenomenon of the theme park industry is considered an American invention, but has found roots worldwide. The marvel began with the Cyclone roller coaster once housed at Coney Island in New York City. However, the oldest continually operating amusement park in America is Lake Compounce in Connecticut.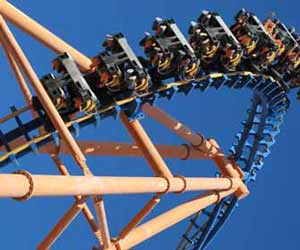 The number one reason people visit and revisit amusement and theme parks is the rides. At present, there are over 1,300 roller coasters in the U.S., the fastest/tallest being Kingda Ka at Six Flags Great Adventure® in New Jersey. Surprisingly, the most popular amusement park ride is the Tilt-a-Whirl and the most popular game (if the park has a midway) is Whac-a-Mole. Almost half of the adult visitors visit theme parks for the rides. Other visitors look forward to the shows, special events, festivals, characters and midway games.
As of today, there are more than 600 amusement and theme parks in the U.S., and 300 in Europe. The Magic Kingdom® at Walt Disney World® in Orlando, FL is the most visited theme park in the world. Outside the U.S., Tokyo Disneyland holds the record. Is it any wonder that Disney summer jobs are so sought after?
Amusement and theme parks generate revenues in the tens of billions of dollars annually. Attendance and sales figures continue to grow over time. With the exception of only two years, the amusement and theme park industry has increased exponentially every year for the past two decades. Likewise, the parks employ over 600,000 full-time and seasonal employees.
— Search Theme Park Job Listings —
Currently, 28% of Americans say they have visited an amusement or theme park within the past year, and an additional 50% are actively planning their visits within the calendar year. Of those that have visited a park this year, 82% plan to return. The majority of people prefer visiting theme and amusements parks in the non-summer seasons, but still 46% of attendees are clocked between the months of June and August, while 21% come in spring and 18% visit in the fall. Also of interest, the majority of visitors stayed for up to three days, either in accommodations offered on the property or at a hotel or motel nearby. Just over one-quarter of them spent four or more days in the area.
Looking at the future, it's projected that the theme park market in Asia will grow at a faster rate than that in the United States. In Europe and the USA, a predicted 5% increase is expected. With all this projected growth, parks both nationally and internationally will be increasing their labor force, which is good news to those seeking a theme park employment experience.