Theme Park Positions
As already mentioned, one of the attractive features of theme park employment is the plethora of jobs to choose from. Typically, the hiring managers will do their best to place applicants in roles in which they might have prior experience or education. Of course, those willing to learn a new trade are usually asked to discuss the request during their interview.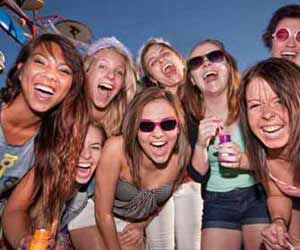 Another point of interest – once hired, it is relatively easy to change roles within the company. Also, the parks realize that those working hourly jobs on the front lines are ideally suited for promotion, since they already know company policies and procedures. It is not uncommon for new entry level employees to receive a promotion within their first year of employment. Search for summer jobs at a theme park on the JobMonkey job board.
Food and Beverage
There are two operation areas within the scope of the food and beverage service industry – quick service and table service. In quick service locations, employees will be expected to perform in a fast paced, high traffic area, standing on their feet for several hours at a time. Tasks include filling beverage and food orders, wiping down tables, collecting trays, filling condiment dispensers and displays, answering guest questions, taking guest orders, and cash handling. In table service restaurants, guest service skills are a must since tips depend upon service given. Employees are expected to understand menu options and alterations, provide consistent check-ins with their tables, up-sell menu extras (salads, soups, appetizers, and deserts), correctly tally the bill, and prevent walk-offs. During meal times, there are no breaks, and employees may service up to 100 guests per hour. However, during the busy holiday season, the tips can be quite lucrative.
— Search Theme Park Job Listings —
Merchandise
The bulk of a park's daily profits come from merchandise sales, so it is important for employees to be comfortable with making "hard sells." Workers will be asked to perform cash handling and register functions, tally inventory sheets, answer guest questions, restock shelves, keep a clean work area, and catalog new merchandise. One perk is the ability to "play" with the merchandise, both to speed the workday and create enjoyable guest interactions.
Attractions
Depending upon the attraction, wait lines may run up to four hours long. Thus, employees in this role must be comfortable with crowd control and diffusing hostile guest situations. Attractions employees are responsible for guest safety at all times, as well as the cleanliness of their area. Take note that all attractions employees will be required to attend training sessions and will not be allowed to run any ride until they've passed a competency test.
Custodial
Although not the most glamorous of the theme park jobs, there are a lot of perks with this role. Employees clock lots of travel throughout the park, thus allowing for time in the fresh air and sunlight. If you are seeking guest interaction, this job is probably the best for you, since custodial employees get asked more guest questions than any other role. There is a good deal of bending and lifting in this job, so applicants should make sure they are in good health.
Front Entrance/Ticketing
These employees are some of the most important in the parks, as they are the first ones guests will encounter. Tasks typically include crowd control (especially when the park first opens in the morning), ticket sales, making guest dining reservations, answering questions, and solving guest ticketing problems. This is a high traffic, high stress area, but the fast pace makes the day fly by. Plus, employees in these areas tend to be promoted quicker due to the problem solving and communication skills honed on the job.
Security
In today's post-911 world, security employees are vital. Although not given the same rights and responsibilities as a police officer, security employees still "keep the peace" and provide a variety of services, such as security bag checks, park patrols, lost children rescue, secret shoppers, first response during medical emergencies, and crowd control. Pay rates for security employees tend to be a bit higher than some of the other areas due to the nature of the job. Keep in mind that if you're interested in these types of employment opportunities, then you should look at our federal government jobs section. There we profile Homeland Security positions, CIA and FBI jobs, and more.
Grounds Maintenance
Those in this role are charged with keeping the horticultural aspects of the park appear brand new every day. Tasks such as planting, watering, fertilizing, pruning, pest management, and general grounds maintenance are typical. For those seeking an outdoor job, this is the ideal position.
Entertainment
There's more to the theme park entertainment industry than fuzzy animal mascots. Theme parks actively seek dancers, singers, storytellers, acrobats, and actors for daily guest interaction and shows. All candidates will be expected to provide an 8″ x 10″ glossy photo and a list of their experience at their audition. By the way, check into cruise entertainer jobs if this category of employment is what you're interested in.
For face characters (those that don't wear a fur costume and instead represent a more human-like character), positions are limited and applicants will be judged on strict physical appearance guidelines. For fur characters, the best candidates are those 5′ tall or shorter, and those 6′ 2″ or taller.