Are you an aspiring artist? If you are, we have some important words of wisdom for you: don't quit your day job just yet. Breaking into the world of art is not an easy task. There are countless creative people out there who love creating art, but very few of them are able to turn their art into a full time, lucrative career.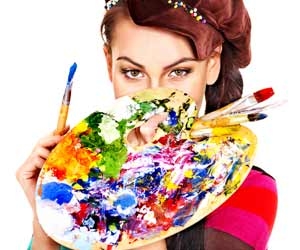 The Day Jobs Of Famous Authors
The last thing we want to do is to discourage you from pursuing your artistic passion, but it is very important to be realistic in your life pursuits. The term "starving artist" exists for a reason – it's hard to make money as an artist. Until you make the big leagues, you're going to need a solid day job to help you pay the bills and support your creative habit.
There are so many good day jobs for artists that will allow you to earn a paycheck and make a living, while still giving you enough time to pursue your artistic outlets. Whether you're a painter, basket weaver, glass blower, photographer, musician, dancer, sculptor, performer, or illustrator, you'll need a good day job with a flexible schedule until you make it big.
Let's take a look at some of the best day jobs for artists:
Which of these jobs will best compliment your artistic talents? We highly encourage you to pursue your passions, but we also encourage you to be realistic. Don't quit your day job just yet. There's nothing more frustrating than struggling to pay the bills. Do your research and find a job that allows you the time you need to be creative.
6 Reasons Why It's Important To Follow Your Dreams
Start your artistic pursuits as a hobby and let your side project grow slowly. When you let your talent shine, you'll get noticed and you'll be able to eventually turn your passion into your profession, but that's not something that will happen overnight. Best of luck!
See Also: