Studio Glass Blower Jobs
Have you ever wondered how that paperweight on your desk was formed? How about the vase that's holding the roses you got your girlfriend? Or the window you've been daydreaming through all day? Well if you ever want to find out, you should ask a glass blower. Glass blowers design and create glass art.
Glass blowing has been around since about 50 B.C. and has emerged into a super appealing form of art in our modern world. Originally glass blowers made blown bottles and tubes. Throughout the Roman Empire and the middle ages glass blowers created bottle, bowls, tableware, glass windows, and vases. Since the 1960's glass blowers are more into the studio glass movement – creating blown glass art.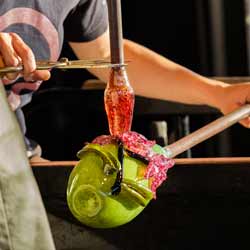 Blowing glass takes lots of work. Officially glass blowing requires no formal education. Instead it takes lots of practice. Many glass blowers obtain degrees in arts or design, but others attend workshops or schools like the Pilchuck Glass School where they only focus on learning to make glass. Other glass blowers build their resumes and learn the skills of glass blowing by interning or apprenticeships with talented glass blowers who want to pass on their skills and talent with the art of glass. Besides the actual skills of creating glass, glass blowers usually have a grasp of design, theory, art history, and color theory.
Creating glass takes many steps. First a piece must be designed. It may start as an idea that pops into your head while eating pancakes, but it needs to be on paper before you begin to create it. Next glass is actually created. In very basic detail, sand is heated, melted into liquid, which takes temperatures over 2000 degrees Fahrenheit, blown through a tube, and shaped with rods, tubes, and molds. The result is glass that has brilliant colors that twist and bend light in a head tilting way. Some pieces draw you in with sparkling firework like design, others with infinite spirals. The stuff is impressive.
If you've never seen glass art, go check it out at a local museum or gallery. It is both eye-catching and functional. It may be the centerpiece of the dining room table, dazzling paperweight, or a spectacular serving bowl. Whatever its purpose, glass art is inspiring. Most glass blowers work at art galleries. Glass blowers use state of the art equipment, burning hot furnaces, and great hand-eye coordination to create stunning pieces that they then add to their glass portfolios.
Glass blowers usually sell their art in galleries, craft shows, festivals, online, jewelry shops, or other places. Often glass blowers receive a commission on each piece of glass sold and generate a starting annual salary of about $25,000. With experience and a solid, impressive portfolio they have the potential to make around $55,000 per year. Usually they work for themselves, craft studios, or galleries. Other glass blowers work as scientific glass blowers and can work for glassware companies, universities, pharmaceutical or chemical companies, or even hospitals. Scientific glass blowing is still fun, but the creations aren't as exciting.
Glass blowing is a great creative outlet. It's a beautiful skill to have, but one that takes a long time to master. Luckily if you chose glass blowing as a career you'll have lots of breathtakingly cool glass around your home. Plus you can always rely on the fact that glass blowing is a stable job. It's a career that has been around for thousands of years.
Quick Facts About Glass Blowing Work
Job Title: Studio Glass Blower
Office: Glass studio
Description: Design and create glass pieces like paperweights, vases, plates, bowls
Certifications/Education: No formal education required. Degree in arts or design is helpful.
Necessary Skills: Creative, eye-hand coordination
Potential Employers: Self employed, craft studios, or galleries.
Pay: $23,000 to $37,000 per year
Helpful Glass Blower Employment Links:
Search Studio Glass Blower Jobs on JobMonkey
Art Glass Association
Glass Art Society
Pilchuck Glass School
Occupational Profile
Craft and Design Magazine
Glass Jobs Online
Glass Global Glass Community
Glassblower.info