Commercial Diving Employment
Commercial divers are professional divers that work underwater to fix, repair, inspect, survey, build, or perform any number of activities. A qualified commercial diver might work at the local police station recovering cars from lakes, do scientific research for NOAA, weld metal structures for underwater construction companies, recover sunken ships for a salvage operation, inspect bridges for structural integrity, explore offshore for the oil industry, harvest seafood in the aquaculture industry, fix problems in water contaminated with sewage or nuclear waste. Commercial divers are always doing something exciting. It's nothing at all like working a 9 to 5 job.
Consider underwater archaeology jobs for something truly interesting and unique!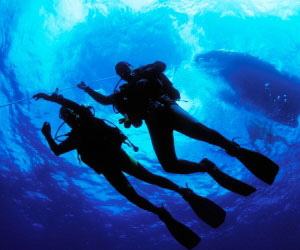 To get one of these jobs you must have the proper training. Look at some commercial dive schools. There are plenty to choose from and if you do your research, you're bound to find one that meets your needs.
After you graduate from dive school, you need to polish your resume so that it will impress potential employers. List your education, job experience, and certifications, but most importantly emphasize your diving skills. If it is your first commercial diving job, be sure to get some quality recommendation letters from your former instructors.
The dive school that you go to should be able to help you find a job. But if not, you need to be the one to start looking. Usually commercial diving jobs are not going to find you. Take a look at job listings on the Internet. Also try phoning up different companies and telling them that you are available to work. Sometimes the most effective thing is to go in person. Let the company know who you are, your training and experience, and that you're ready to get wet today. Employers appreciate that mentality.
Searching for a job can take some time, especially if the job market is struggling. Be prepared to travel around the country or even around the world if you're serious about working in the commercial dive industry. Contact employers and be persistent. Often a resume may get tossed in the bin, but by knocking on a door you're showing an employer that you're the real deal.
You'll also need to figure out where to work. Inland? Offshore? Internationally? Most introductory commercial dive jobs are offshore. These jobs are hard work. You'll work lots of overtime and most likely live offshore too. But this is a great place to hone your skills. Plus it gives you job experience, references, and decent pay.
Divers are often hired for contract work instead of being directly employed by a company. Contract work usually means short-term freelance work without benefits like health insurance. Freelance diving keeps you on the move, which means you are always looking for the next job. If you're lucky enough to land a job as an employee, be sure that they offer solid benefits. Either way is a good way to start you career.
The big key with commercial diving employment is to be adaptive. Remember to build a solid resume you have to start at the bottom. You may end up being contracted to work on an oil rig in the middle of the cold North Atlantic before you can land a cushy job working directly for a Seattle company that inspects bridges and getting to call one place home.
Working your way up the ladder is something you have to do in any career. During the process you'll build long lasting relationships, prove your competence, and hone your skills. Once you've worked in the industry and have the experience, you'll find that there are lots of jobs out there.