SCUBA Diving Certification
You may or may not be certified at this point, no big deal. Everybody has to start somewhere. The majority of dive careers begin with diving for fun. From there the logical step is to continue up the certification chain to gain experience and choose the career path that most interests you.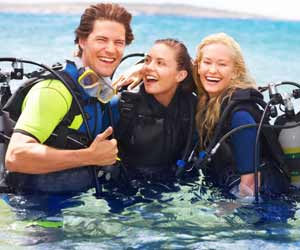 Picture yourself as the world's newest diver. The first thing you need to do is to become certified. This can be done by any number of organizations like PADI, NAUI, CMAS, SSI, or numerous others. If you like diving, like most people do, and you can imagine yourself diving on a daily basis and getting paid – you need to keep diving!
It is very important to log all your dives. The number of dives you have is often how you reach a new level of certification or get a new job. Basically, it's proof that you have the experience you say you have. It may take years to gain enough experience to get where you want to go, but nobody wants to hire a newbie to do an expert's job. Remember you can get experience diving anywhere there is water.
If you're new to diving and want to get on the fast track to being a professional, a diving internship is a great way to go. In a minimal amount of time you can go from zero to hero. From a newbie just getting your feet wet to a dive instructor, while gaining all the experience and training you need. The path to dive instructor is usually where most dive professionals start.
Diving internships are awesome. Many include all your expensive equipment, nice accommodations, unlimited diving, job placement services, guaranteed certification pass rates, extensive training, all your certifications, and much more. Before you sign up for an internship, be sure it is in a location you want to spend some time and get some testimonials from intern graduates to make sure it is as great as it's advertised.
Every time you dive you learn something new. That is why experience is so important. It may be your first seahorse sighting or your first buddy-breathing experience or your first drift or night dive. But experiencing these new things is what makes you a solid diver. Once you've gained that experience there are plenty of different career paths to choose.
You could work in the recreational world leading and teaching diving. Technical diving gives you skills to move on to different jobs like salvage diving, treasure hunting, or commercial diving. Media diving brings you into the world of underwater video and photography. Scientific diving allows you study the ways of the underwater world. You can pick what you want to do.
Wherever you decide to take your diving career, remember that the most important thing is to get started. Without experience it will be hard to go very far in your new career. But experience is waiting for you everywhere there is water from lakes to rivers to aquariums to oceans! Good luck!