Medical Field Internships
Internships are required for many majors, and each school has different requirements. However, across the United States, there is one type of intern that is always part of a student's study – medical interns. A medical internship is not the same as most other forms of internships. In many countries outside of the United States, medical internships are also required, but they are not always called "interns."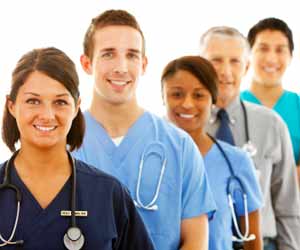 A medical intern is someone who has completed his or her degree, but who does not yet have a full medical license. You become an intern with a hospital immediately after graduation. Following that, you can complete a two to seven year residency, which allows you to hone your specialty, or you can decide to practice general medicine. Please note that if this topic is of interest you should review the nursing jobs section of JobMonkey.
A medical internship typically lasts one year, although if you do not pass your final test, you may have to repeat your internship year. Today, the Accreditation Council for Graduate Medical Education does not use the term "intern" and instead refers to all physicians in training as residents. The American Osteopathic Association, however, does refer to first-year trainees as interns, and in common language, the term "intern" is still used in most cases.
Before you can become a medical intern, you have to complete the second step of the USMLE (for medical doctors) or COMLEX-USA (for osteopathic doctors). There are three steps to both of these tests. In step one, students must pass a common knowledge medical test based on anatomy, pathology, biochemistry, nutrition, and so forth. Step one is usually taken during the second year of medical school, and the test takes eight hours in total. Step two is a 9-hour test based on clinical sciences, as well as a hands-on patient test. After their internship year, students complete the third step, another very long test based on common knowledge, diagnosis, and specialized skills.
As an intern, your job will be full-time and you will be paid for your work. As an intern, you'll be required to stay at the hospital on call during certain times. When you're on call, you will have access to a room for sleeping, but you'll have to respond to your pager whenever you're needed.
Without an internship, you won't be fully licensed as a doctor. This training is very important for another reason – it helps to ensure you're trained properly for your medical career. In medicine, nothing is black and white – your opinions are what ultimately determine a patient's course of action. If you are wrong, you could seriously injure a patient, sometimes even causing death. As an intern, you can complete many medical tasks, but you'll be helped by residents and specialists who work at the hospital, so the possibility of making any kind of major mistake is low.