Internships Abroad
If you are studying in a foreign country, internships abroad are often the only way to work. Some colleges offer work-study programs, but in general, you have to have special permission to work in most foreign jobs. If you don't, you may still be able to get an internship – at least, an unpaid internship.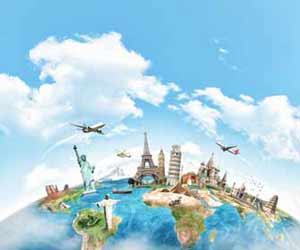 Your first step to getting an international internship is to talk to your school's study abroad coordinator about laws regarding foreign work. Talk to your academic advisor about requirements. Then, you can hunt for internships in the same way you'd hunt for internships in your own country. Start with the college's internship program or the person in charge with internships in your field of study.
If you're attending foreign school for your entire college career, you may want to look into getting the proper paperwork filed so you can actually work and be paid for an internship. However, this is usually an unnecessary hassle if you're only part of a semester-long or yearlong study abroad program. In this case, you'll be primarily looking for unpaid internships. It's usually easier to get an unpaid internship because there are few students applying, but you'll still have competition. It may be possible to secure college financial aid including student scholarships to help finance these types of opportunities. Look into it.
Are you studying abroad in an exchange program for just a semester? If so, you'll want to check with your own college about internship credit requirements, not just with your host school. There are two ways this could be handled. First, the host school could set the requirements and issue credits to you, which get sent back to your own college. Secondly, your college might simply allow you to participate in their internship program remotely, apart from your host school. In any case, make sure you look into the options before you begin applying for internships.
When you're in a foreign country, it might be hard to get an internship if you don't fluently speak the native language. That doesn't mean you're out of the running completely, but it does mean that you have some hurdles to jump. Keep in mind that companies outside of your college won't care what country you're from as long as you can complete the tasks assigned to you. However, communication is important, so if no one at the company can speak your language, you'll have to look for other options.
One solution is to look for an internship with your host college. Not all offer these programs, but sometimes you'll be able to find work through a professor or an office on campus. These bosses are generally more understanding about communication barriers. You can also look for an internship with your country's embassy, if you live close enough and your major is related. There, your home language will be spoken.
Not every study abroad program allows internships (or regular jobs). Sometimes, you are required to attend specific programs for foreign students so you won't be able to make time for an internship. There are a few programs that set up internships as part of your time, though, so if you're lucky, getting that internship abroad won't be a problem at all. It all depends on how your college sets up the program.
What Kind of Work to Expect
The first day at any job can be rough. As an intern, you are the low man on the totem pole, so to speak. You'll often do the tasks that no one else wants to do. At the same time, however, you'll get opportunities that typical entry-level employees only dream. So, it isn't all horrible work!
On your first day as an intern, you can expect a few things. First, you'll be bombarded with information – names, how to do things, passwords, directions, etc. It can be daunting, but don't be afraid to write things down. On your first day, you can also expect to fill out payroll paperwork (if the internship is paid), sit down with your boss to come up with your set schedule, set up your computer (if you get one), and learn about employee code of conduct (dress code rules, lunch rules, etc.)
After the first day, you'll typically start off with small tasks. Don't be offended if you're given jobs that seem menial – as the intern, you are the one responsible for these tasks, even if you re more intelligent than some of the employees above you. You might be charged with ordering lunch, making coffee, copying and faxing, stocking shelves, and doing other boring tasks that are seemingly unrelated to your job. Just remember – everyone has to start somewhere.
Note – If this type of experience sounds intriguing, then definitely check out the work abroad section on JobMonkey.
You'll advance with your job tasks quickly if you prove that you're smart enough to move on to other work. Whatever task you're given, do your best to get it right the first time and, if you don't, to fix your mistakes the second time. Adaptability is crucial. By the end of your internship, you should at least being doing tasks that an entry-level employee would be doing.
As an intern, you can also expect some special perks. The focus for an intern is learning, so your day might not be all about working. For example, you might get to sit in on board meeting, meet with the president of the company, go to conferences and other events, and "job shadow" senior-level employees during their typical days. Being an intern can be challenging, but if you're dedicated, you'll reap the rewards.