Are You Cut Out for Touring?
Now that you have a much clearer idea of the different types of tour you can end up leading, what kinds of land tour guide jobs are out there, you will have to seriously consider if touring is really the right job for you? There are lots of pros and cons to working as a tour guide that you should weigh up before you decide to start looking for jobs, or signing up for any training programs.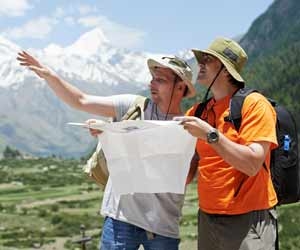 Pros of Touring
There are a lot of great things about being a tour guide, and most guides will tell you that the travel opportunities they receive is the highlight of this career choice. Meeting new people and learning about different cultures from around the world is the second most popular benefit to becoming a tour guide or tour director. Let's summarize all the pros here:
You are able to visit all the best locations around the world and get paid to do it.
Your accommodation is paid for if you travel overseas, and transport around the cities is also paid for by the company.
All your meals are also paid for, whether it is just lunch and coffee during a day tour, or a full three meals a day during week or month long trips.
Tips are common and travelers normally pay high tips to the tour guides that they enjoy having around. 
Medical insurance or other health benefits may be offered depending on the tour company you work for.
You are constantly learning and educating yourself about all different destinations as you have to do plenty of research as part of your job.
You get to talk a lot – this is a pro for some people!
It is exciting – this career is perhaps one of the most interesting you can get. You spend time outdoor, visiting interesting places, and basically having a vacation every day. You are not stuck in an office at a desk.
You are able to save money, as there are hardly any expenses working as a tour guide.
Some tours end early giving you the rest of the day off, and some only require you to work in the morning and again in the evening, leaving you the day free to explore. See the Jobs for Americans page to see a sample tour schedule detailing this.
Cons of Touring
While touring at the moment may sound like your dream job, you have to be aware that there are some cons about being a tour guide that you need to consider before making a decision, and these are things can make a huge difference. The cons are described below:
It is a stressful job, as you need to look after a large group of people, sometimes up to 60 in a group.
There is not always work, as touring is a seasonal job in many countries.
You must do thorough research about every tourist spot you visit and be able to memorize all the information.
You need to learn new languages – not a bad thing, but just time consuming.
You will not always get passengers that you get on with, and some might not find you very impressive, which you have to deal with. You will get passengers that complain and sometimes emergencies occur which you must be able to handle effectively.
Living arrangements – You will spend a lot of time away from home in hotels, camping, or at one of the tour company's houses that they set up for their guides. You live out of suitcases most of the time, which some people don't enjoy.
Long working hours – Many tour guides work from 8 to 12, sometimes even 15 hours a day, and this continues every day. Many guides do get 2 or 3 days off in between tours, but there are month long tours that will require you to work all the time and get very little sleep.
Here is what one tour guide had to say about what she didn't like about the job:
"Sometimes during the busiest times of year I would get very little time off in an entire month. I would do a 7 day tour, then come home for a day and then turn around and leave for another one again. It was becoming really hard to be at home so little and was becoming hard to keep a place. I also ended up losing my network of friends because I was out of town so often. People only call so often and then eventually, when you are never at home they don't call anymore. Also, once you come home and want to talk about your exciting travels, many people who have jobs where they fill out insurance claims all day or sit in an office, tend to not want to listen."
Obviously this scenario is not typical of every tour guide, but it is something to take into consideration. Many tour guides will tell you how much they love the job, you just have to make sure that it is the right thing for you. I once had a job on a yacht and it was very similar!
If you want to know if touring is for you, ask yourself the following questions:
Are you patient?
Are you a friendly, likable, social person?
Are you ok with working long hours?
Are you happy traveling for extended periods of time and not being at home that often?
Are you ok with not earning a very high salary?
Are you a leader?
Are you able to do lots of reading and research to plan your tours?
Are you organized?
Are you a good storyteller and pubic speaker?
Are you cool headed in an emergency situation?
Can you speak other languages?
If you answered yes to these questions above, then touring is definitely for you, and to find out what you need to do next, read the next sections where we will discuss how you go about getting a tour guide or tour director job, with details about training, pay, skills and more.