Promoting Your Skills
Now that we have discussed the various skills that you need to possess to be a good tour guide, we can start looking in detail about how to promote these skills to potential employers.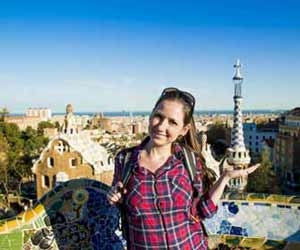 It is one thing to have special skills, or to work at acquiring these skills, but if your potential employer doesn't know that you can offer them, you will find it much harder to get a tour guide job. Similarly, if you already have a tour guide job and your employer doesn't know that you have learnt new skills through night courses or extra training programs, this can be to your disadvantage.
Having additional skills will give you an edge as a tour guide, and can possibly lead to better pay, either with the tour company you work for, or with a new company. If you are a freelance land tour guide, having plenty of skills to offer will ensure that you get more tour companies willing to hire you, and there will be more tour groups interested in your services. For example, if you can speak German and Spanish, you will get more work, as opposed to someone who just speaks German. Promoting your different languages, any sports that you are talented at, experience with activities such as rock climbing or horse riding, and other abilities that you have can only benefit you.
How to Learn New Skills
If you are hoping to get into the tour guide industry, don't stop at your general tour guide training. Sign up for some additional courses or find training programs in your area. You can also sign up for online courses to learn a new language, for instance.
What Skills Can You Learn?
New Languages – The more languages you can speak, the better!
Sign Language – Being able to sign is something that not many tour guides can offer, and this can be an important niche market to target.
Sporting Activities – Cycling, Hiking, Horse Riding, Scuba Diving, Zip Lining, River Rafting, Paragliding, Abseiling, Rock Climbing and many other sports and activities will give you an edge, and lead you to partake in exciting adventure tours. You need experience to land these jobs, so take your favorite activity and get as much practice as you can. There are also training courses and instructor courses offered at various tour companies.
Here are some examples of courses you can take to give you an extra edge as a land tour guide:
New Languages
The Language Training Center based in Indianapolis has been offering translation, interpreting, language and cross cultural training for over 15 years with language services provided at their headquarters, at your work, at your home, over the internet, or via phone.
Cactus Language Training has a wide array of language studies available, including courses abroad and evening courses.
Sign Language
Multilingual Books provides a comprehensive list of colleges that offer sign language and interpreter training by State.
Sporting Activities
Cycle Active offers 1 day cycling training courses with certified instructors to give you developmental, emergency, and leadership skills. There are also 2 day courses with 1 day of assessment in the TCL (Trail Cycle Leader and the MBL (Mountain Bike Leader) course, as well as additional courses which include the following:
Expedition Module – 2 days of training with 2 nights and 3 days of assessment, which allows you to lead groups on self sufficient, multi day trips.
Night Riding Module – 7 hours of training with 50% practical in the dark, and 3 hours of assessment 100% in the dark.
Winter Conditions Module – 2 days of training (1 practical and 1 in the classroom) with 1 day of assessment.
Katabatic Adventures provides training for white water river rafting guides from highly experienced instructors whose certifications include Swift water Rescue Technician (SRT) from Rescue 3 International, California. The courses include basic, advanced and guide over a 5 to 10 day period and cover the following:
Introduction to white water
Intro to equipments (importance, types, maintenance, usage)
General safety on river, safety gear, and safety signals
Basic maneuvers
Capsize recovery
Basic rope knots
Paddle commands, strokes and signals
Basic CPR and first aid
Basic rescue techniques
Types of rivers and their grading
River scouting and reading (identifying river forms, characteristics, and reactions)
Basic raft repair
Basic rescue
Self rescue and white water swimming grade II
Advanced paddle commands and signals
River hazards and safety (strainers, under cuts and obstructions)
Regulations for competition river running
Camping etiquettes
Transportation of equipment
Giving a safety talk
Guide paddle steering and commands
Diseases education (e.g. asthma, heart attack, epilepsy)
Immediate capsize response
Introduction to oar rafts
Basic rescue techniques (river crossing and Z-drag etc)
Assessing river run, raft lining and portage
Low and High volume river runs
Communication techniques (morse code, walkie-talkie and signals)
You can learn about other adventure training programs at the U.S. National Whitewater Centre including rafting, zip lining, canyon crossing and mountain biking, and enroll in their survival school.
Did You Know? Internships are offered at many land tour companies. You can learn on the job, training is often offered as part of the program, in exchange for your work.
Promoting Your New Skills to Employers
Now that you have taken the time to equip yourself with additional skill sets and have undergone various forms of training, you will need to let employers know about it. Listing it on your resume under a separate heading called "Additional Qualifications and Skills" is a good way to highlight these items. If you already work for a tour company, but want to make your employer aware that you have just completed a course, resubmit your resume with these items in it, or simply provide an addendum page with the course details and level achieved.
Working in the land tour industry requires you to be ambitious, and obtaining additional certifications will help to promote your credibility and highlight your dedication to potential employers.