Tour Director Employment Opportunities Explained
This is Part II of our interview with tour industry professional, Cherie Anderson, who is the owner of the Professional Tour Management Training in Lake Forest, California. Few people understand the innerworkings of the travel and tourism industry than Anderson. Interested in becoming a tour guide? If yes, then read all three parts of this insightful interview.
What kinds of career advancement can a tour guide look forward to?
The future opportunities are amazing. Tourism is the largest and fastest growing industry in the world. The baby boomers are retiring and many of them say they want to spend their retirement traveling.
Tour directing can also lead to other opportunities. I've done lectures throughout the US doing seminars and workshops for a number associations and companies. I've turned down jobs promoting hotels, cruise lines and countries.
Tour directors have become product managers (developing tours), vice presidents and presidents of tour operations. This kind of work also develops excellent leadership skills for other careers. I know tour directors that have started their own DMC's, incentive houses and tour operations.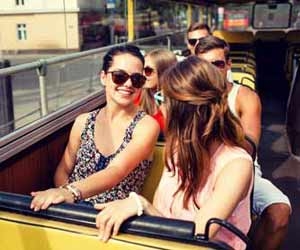 Do you have to be an expert on any given subject before you get hired as a tour director?
It depends on what kind of tour operator you are working for. Most U.S. domestic tours include a lot of history and or geography as when leading National Parks tours. It might be difficult to get a job giving tours of Gettysburg if you're not familiar with the Civil War.
However, the internet makes research easy. If you tell a specific employer that you have tour management training and can research and deliver informative and interesting narration, that's really what most are looking for in the staff.
When I lead an international tour, local guides deliver the narration. I don't need to know the history of Australia or wherever the tour may be. I'm also not bilingual, my local guides help if I need an interpreter. My job is to manage the tour group, not deliver the narration.
How difficult is it to juggle a family life while being a tour director?
You can work locally for a destination management company, receptive services (meet and greet) or lead local tours, which will allow you to be home and still be a part of the tourism industry. However, if you work for a domestic or international tour operator you might be gone for several weeks at a time. Some families may like that set up, for others it's not really an option.
Would you say that the work for land tours is pretty much year round or is it more of a seasonal job?
There are high and low seasons, but tourism is year around. I lead international tours so we are busy all year round. For example, when it is winter above the equator, it is summer below the equator.
In the fall we usually started our South American, Australia and New Zealand tours. In the winter when the domestic tours slow down the domestic tour directors and guides may work for the incentive houses and destination management companies to keep busy.
The incentive trips are the busiest in the winter and spring. There really are opportunities all year.
I have a past student that works for Tauck Tours. If it's slow for her during the winter, she works for the cruise lines at that time.
You mentioned tour directors are always busy doing work behind the scenes. Do you even get to experience the "fun" of traveling?
Good question. Of course we have fun! We get to experience all the things that people pay thousands of dollars to do. Some people think that the tour group is with us 24 hours a day. They don't want to be with us all the time! The group wants time to themselves and time to go off on their own. We may have some days where we are working from morning until night, usually on travel days, but then there are other days when we may only have a half day tour. When this happens we can go off and explore the destination on our own.
Not to mention we participate in all the fun evening activities that are planned for the guests. For example, the evening might include a night out at the Moscow Circus, a Tango Show, Â or Shanghai Acrobats. As the tour director you get to be part of these incredible events. It really is a fantastic experience.
Do tour directors usually freelance or do they work through a company?
In the past most tour directors and guides worked freelance. About 2002 the IRS and the State of California determined that most were actually 'employees'. This lead to law suits and so today most companies hire their staff as full and or part time employees. Some people start out working for several companies. When I started as a tour director I worked for a couple companies. Once the tour operators receive the evaluations from the tour members and see the tour director knows their job they will usually keep them pretty busy. Evaluations are extremely important which is why the tour director needs to know how to lead the tour and can't expect to just learn as he or she goes along.
Can you draw any parallels between tour guiding and other types of employment?
There's a lot of carry over. Teachers, mothers, actors, health care workers, administrators, managers, I find almost any responsible career has carry over that will help. I think I've used every skill I've ever had in tour directing and guiding. We do it all, we're teachers, caretakers, lecturers, sales people, administrators, actors, customer service reps, we do it all. Most people think we are mainly a host, we are much more than that. I often hear from my students how much more involved our careers are than they originally thought.
Do you have certain qualifications or any restriction you're looking for before you let someone take your classes?
No. I find most skills can be learned if the student will follow my instructions and say exactly what I list in the lessons.
I've had students I didn't think would be particularly good tour directors or guides and they turned out to be excellent. I've had others I thought would be excellent and they couldn't show up on time or cancelled at the last minute.
If they are not responsible then they shouldn't be tour directors or guides. It's not the type of job where you can put on your voicemail and hope that will cover for you. You have to actually be there and on time. Better yet, be early!
What would you say your typical student is like? Are they usually college age or adults?
Most of my students are mature. It's a great job for those that are 'mature'. They have experience and maturity is an asset since most people on typical escorted tours are mature, 70% are over 50. I like seeing younger people in the training too. There are so many opportunities now! Tourism is the largest and fastest growing industry in the world, yet most people know very little about it. There are also specific tours where young people are desired and needed such as Contiki Tours or many of the adventure, camping, or Alaska programs.
I trained a young man years ago who had just turned 18. He became a tour director and then worked for years as an assistant cruise director for Princess Cruise Lines. He's literary traveled around the world. There's opportunity for all ages.
Is there any other kind of work experience that is particularly helpful?
Narration is important for domestic tours, so public speaking skills are very helpful.
If you have worked as a ski instructor, camp counselor or other type of activity where you have led and or directed a group of people that may help with your chances.
Volunteering as a docent is also very helpful. In California the mission docents are very knowledgeable of California history.
Customer service skills are important, sometimes handling tour members under stress can be challenging. You need to be able to think and make decisions. You'll be making the decisions for the group. Even though the tour is set up a year in advance, things change and there are challenges. It's up to the tour director to decide what's best for the group.
In my training I give information on handling challenges and emergencies and I have to say, they often seem to happen in the middle of the night. We do the best we can when there's a crisis. In my experience most things that happen may be a hassle and inconvenient but not fatal. Yes, you definitely have to be able to think on your feet.
Perhaps some minimum CPR training would help?
Yes, first aid and CPR are important and some companies require an updated card.
Are there physical demands?
There's often a lot of walking. On some tours like in China, it may be miles of walking, which I love. Active tours have become so popular that it may really be to your advantage to be in shape.
You don't have to be real strong, but we do have long days and jet lag on international tours. And as I said emergencies seem to happen in the middle of the night. You should be able to function occasionally without a lot of sleep. Since it's difficult to replace tour directors before or during a tour, the tour director should be healthy.
Why do you think people typically pursue the tour industry?
Some because they are retired and want to do something new and fun. Other people go into it because they are tired of their day-to-day routine job. They are looking for something that is fun and less routine. In some cases the kids are grown, out of the house and now there's time for mom to travel. I meet lots of people that really want to do something they love.