Tour Guide Jobs for Americans
Domestic tourism is on the increase in North America, with inbound tour operators looking to hire skilled local tour guides to take tour groups around that are from other parts of North America, as well as those from English speaking countries like Australia, England, South Africa, and New Zealand.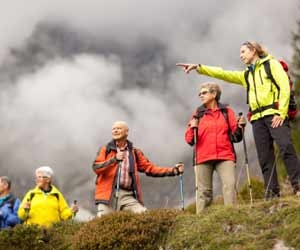 When we talk about domestic tourism, we are also talking about Hawaii, Canada, and Alaska, which are extremely popular tourist destinations for both Americans and foreigners.
A typical year in the life of a domestic tour guide could see you take groups to North America's national parks during summer months, then head off to New England in the fall, and then jet off to lead a tour in Hawaii over the winter months. One of the most common domestic tours that tour managers and guides normally start out with is the Los Angeles to National Parks tour. This is the easiest type of tour because there are no airlines to deal with, and just one coach to ride. The group leaves Los Angeles and heads over to Phoenix, and to Scottsdale for a few days. They visit the Grand Canyon, Bryce Canyon, and Zion National Parks, finishing off in Salt Lake City or Las Vegas, where they visit casinos, catch a show, and then fly home. This is one of the most popular tours given to new tour directors. Other national parks that are popular tourist attractions where you can find jobs include Yellowstone, Yosemite, Death Valley, Great Smoky Mountains, Rocky Mountain, Everglades, and Shenandoah among others.
Are you bilingual? If you are, there is a greater chance that you will be hired by certain companies that offer tours to international groups. It is rare to find bilingual North American tour guides, so this asset will be to your advantage wherever you search for tour guide jobs in the United States.
Looking to go overseas? If so, there are plenty of U.S. tour operators that offer international tours to Americans. They usually prefer a U.S. tour manager to go with the group. You need to first get a work permit or visa to the country that you plan on travelling to. Tour directors normally organize this for the group and for themselves. You simply need to contact the embassy or consulate of the country you wish to tour, and find out how to go about applying for a work permit. These jobs will be more difficult to obtain.
Quick Fact: More tour guide jobs are soon to be implemented in the U.S by offering international tourists a better visa policy process.
North American Tour – Working in San Francisco
To give you a better idea of what it is like to work as a tour guide in the U.S. we have detailed a tour guide job in San Francisco. To work in San Francisco, you don't need to have a qualification or license, but you should be a member of the San Francisco Tour Guide Guild. This is the best way to network, get training, and find job opportunities.
In the city, working as a volunteer at any of the local museums or historical societies is recommended if you want to eventually lead paid tour groups. Museums usually train docents to lead gallery tours, and organizations like the San Francisco City Guides offer free training of tour guides during January and February each year. They are sponsored by the public library and lead free walking tour all over the city.
In San Francisco, many tour guides attend the International Tour Management Institute as it is recommended by the San Francisco Tour Guide Guild. Aside from training, they also provide job placement assistance.
Another way to find work as a tour guide in the city is to contact the San Francisco Convention and Visitors Bureau. They will have a list of DMC employers and other tour operators in the city that you can send resumes and applications to.
U.S Train Tour Guide Job – Working in Alaska
Another example of an exciting tour guide job you can get in America is working on railroad or train tours through Alaska. Here is a typical day in the life of a local tour guide working on Coastal Classic, taking a tour group from Anchorage to Seward and back.
6:00am – I meet and greet the passengers at the depot, help them with baggage check-in, and assist passengers as needed, finding out if anyone needs a pre-board (mobility impaired, wheelchair, or large groups.)
6:45am – Scheduled departure time. I introduce myself over the PA, give safety information. I walk through my assigned coach, answering questions, and handing out "On Board" magazines.
7:15am – The conductor collects the tickets, and then the domes are opened for passengers to go up and enjoy the view.
9:00am – I provide narration about Alaska, the history of the Alaska railroad, point out wildlife, and provide information about points of interest along the way.
11:00am – We arrive in Seward.
11:30am – The trains are turned around ready to head back that evening and I have the rest of the day to myself. We tidy up our designated coaches, then change into regular clothes and enjoy the day in Seward.
5:00pm – The passengers re-board the train.
6:00pm – On the ride back to Anchorage everyone is tired, so not much commentary is required. I generally point out wildlife.
10:30pm – We arrive back in Anchorage. I tell passengers where to get their luggage. I also organize shuttles or cab services if needed. I fill out my timecard and head home usually around 11:00pm.
Being a Tour Guide in Hawaii
Hawaii offers visitors something special in terms of the scenery and one of the most popular locations for visitors is the huge Volcano National Park, where the two active volcanoes of Kilauea and Mauna Loa are located. Many activities are offered to visitors in Hawaii including surfing, rock climbing and zip-lining. Becoming a zip line tour guide is an exciting option and gives you the chance to work outdoors in the beautiful Hawaiian habitat. Joe, a zip line tour guide in Hawaii describes his job, "I get paid to throw people off cliffs every day – how cool is that?!"
There is also the chance of becoming a cycling tour guide, where you will take groups of cyclists through the Hawaii Volcano National Park. Here is a typical itinerary:
The day starts at Jaggar Museum in the Hawaii Volcanoes National Park where you will give the group of tourists the orientation talk and show them the Summit Caldera eruption, as well as providing a history of the eruption. The guest can then explore the museum and see the impressive exhibits.
After this, you lead everyone to the biking start point at the Kilauea Overlook and fit them all with their mountain bike and safety gear. You will give a safety briefing and then head off to the rim of the Caldera where the Steam Vents are. 
After this, you will lead your group to the native Hawaiian rainforest section of the Summit and travel along the edge of the Summit Caldera on the partial collapsed roads of the 1982 earthquake. The course then rejoins the Crater Rim Drive and you lead the group through a lush ancient Hawaiian Fern Forest and stop at the Kilauea Iki Crater Overlook to see the cinder cone Pu'u Pua'i. Next you will show the visitors the first pit crater, Nahuku.
This part of the tour will be on foot as you take the tour group through the famous Thurston Lava Tube and then you will make your way down through the Chain of Craters, where there are various large pit craters, lava trees and a lava shield volcano. The end of the trail is at Mua Loa O Mauna Ulu where the group will experience the massive lava flow.
At this point you will get all the visitors onto an air conditioned bus which takes you down to the ocean to the end of the Chain of Crater Road where the 2003 lava flow has crossed over the road. At the ocean the group will have lunch, possibly view some humpback whales and see the lava flow into the Pacific Ocean.  This tour also provides an optional wine tasting session with local yellow guavas and exotic jaboticaba berries are blended with the traditional wine grapes to form exciting, vivacious flavors.
Did You Know? The first full week of May is National Travel and Tourism Week, a tradition that has been celebrated every year since 1984.
With so many attractions and beautiful cities in the U.S, this is one of the best places to get tour guide jobs. Jobs could see you working the summer season in Alaska where you could become an adventure tour guide in one of the national parks and show visitors the wonders of the glaciers and wildlife in the Alaskan wilderness, the most popular tours being those of Prince William Sound or the Kenai Fjords. You could lead tour groups through the historic military battlefields of Gettysburg, on vintage trolley tours in old Boston, and offer guided walking tours of New York. Tour guides get paid to party in New Orleans, spot alligators in Florida, experience Disney World, soak up the sun in Panama City, white river raft through Tennessee and the Deep South, and show people the exhilarating sights of Universal Studios, the Kennedy Space Center, The Smithsonian National Museums, and more.
Travel opportunities are limitless in America and can provide many exciting tour guide jobs for those who want to remain within the U.S.
Quick Summary:
Some of the most popular U.S. domestic tours include a Northeast Fall Foliage Tour, Canadian Rockies Tour, and a South California Coastal Tour.
Currently there are just over 31,500 tour guides employed in the U.S.