Adventure Travel Guides
Being a tour guide is fun, but if you like to work out and keep fit and find that you do not have time to go to the gym with your busy schedule, why not incorporate a rigorous work out into your job? Becoming an adventure travel guide is the answer.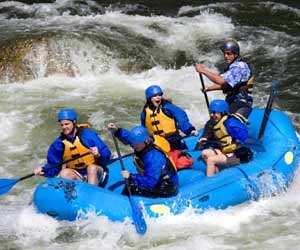 There are a number of different types of adventure travel guide job opportunities out there, so you do not need to worry about doing something that you might not like or have the skills for.
If you feel that you know enough about white water rafting, then you are well suited to be a white water rafting guide for example. If, however, you want to start out with something a bit more laid back, then you could opt to become a canoe guide, or kayak guide leading people on river tours in Alaska – the choice is yours. The best thing to do, to start with, is to look for an adventure tour opportunity or sports tour that you know you have the correct skills and experience for.
Did You Know? There are more than 20 different adventures to choose from as an adventure travel guide.
Job Responsibilities
The responsibilities of an adventure travel guide are not much different to a normal land tour guide, step-on tour guide, or shore excursion tour guide. However, with any adventure sport or activity, comes a risk, which means that the tour guide in charge needs to have a good understanding of advanced first aid. Apart from the advanced first aid, you will also need to know about the area you are travelling through and be able to narrate to your group whilst scaling a mountain or hurtling down rapids. Your job is to entertain your guests, and while you may think that boating down a river is entertaining enough, your tour group will want to know every inch of the area you are in. This means that you will need to learn about the plants, the wildlife, birdlife, local cultures and traditions, as well as conservation information if applicable.
This is why this type of job is best suited for a person from the local area, but it is not a necessity, as long as your geographical knowledge is up to par. The downside of the job is that you will have to be ready for adventure at any time of the day or night, depending on the adventure of course. You will also be required to work in any type of weather, so come rain or shine, you will be outdoors.
Depending on the type of sport your tour caters for, you will need to make sure that you have all the required equipment. You will need canoes or kayaks, paddles, extra water bottles, enough food, life jackets and safety equipment if you are a river guide, canoe guide, white water rafting guide or kayak guide. One other thing that you have to keep in mind is that your group may not be as experienced at the sport or activity, so you will have to be patient, offer good advice and support, and most importantly keep everyone safe. The trick is to go as slow as the slowest person while still keeping the more advanced travelers well adventured.
Job Requirements
Most companies look for locals to work as adventure travel guides, so if you live near to a mountain, a park, or a river, there may be an opportunity for you locally. If you do not mind relocating, then you will have to make sure that you have advanced first aid training, good management skills, the ability to foretell dangers, a good knack for knowing the weather of the area, and a proven track record in the adventure of your choice.
One thing to keep in mind is that you will stand a better chance of landing a position if you can lead more than one type of adventure. Most companies look for guides that are able to do water sports, mountaineering, and skydive for instance, so that they do not need to pay three separate salaries to three separate people.
Apart from that, you need to be between the ages of 18 and 35 to land most of the adventure positions available, and you have to be a people person with good communication skills, excellent teaching ability, and a strong sense of humor. You also need to be fit and healthy.
Training & Degrees
While a school diploma could get you a job, if you want to have a competitive edge, you will want to obtain a bachelor's degree in subjects like earth science, sociology, geography, geology, history, and archeology among others.
With this type of job there can be no training on the job, so make sure that you know what you are getting into, because you will hold the lives of others in your hands. Your experience in the type of sport or activity will be paramount to being accepted for the position, and sometimes relevant certificate will be required, like a mountaineering license for example.
Salaries and Benefits
The life of a travel guide or a tour guide is not always glamorous, and it shows in the salaries offered. While you will find some companies offering salaries that go up to $75,000 a year, the most common earnings are from $2,000 to $3,000 a month. However, if you do have a great track record and the relevant experience you could land a cozy position brining in around $6,000 a month.
The great thing about earning money as an adventure travel guide is that you do not spend any of your own money while you are working, because you get free food, drinks, accommodation and of course travel. You are basically getting paid for doing what you have a passion for.
Quick Summary:
Earn up to $75,000 a year, while doing something you love
Meet new people and teach others about the sport you like and the area around you
Make a start as an adventure travel guide with just a high school diploma