List of Tour Companies
One of the most important aspects of landing a tour guide job is nailing the interview and finding the best companies to approach for jobs. You do this by researching potential employers. This has various benefits, namely allowing to you customize your cover letter in order to address the company's specific requirements, and to show your interest in the employer.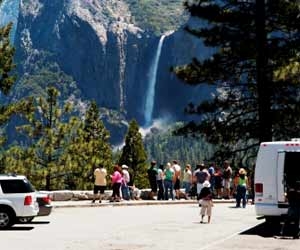 The research you conduct will help you later down the line during your interview, giving you more confidence in talking with each employer about their services and products.
Researching Potential Employers
Before you apply at tour companies and for certain tour guide jobs, you should make sure that you are what they need and are looking for. Rather focus your attention on finding the perfect fit for your skills and experience. To this end we have compiled a list of exciting companies that you could work for as well as directories and list of tour operators. Note that some are volunteer guide jobs and some are adventure tour guide positions. The aim is to research each thoroughly to find out what they require before you apply.
International
Working Adventures Worldwide is also looking for people to volunteer as guides for various adventure tours around the world.
International Ecotourism Society looks at various employers who are doing their bit to save the environment and offer sustainable tourism.
International Eco Tour Operators
World Tour Operators listed by country offered by Selena Travel.
Tours.com lists tour operators by type of tour as well as by country.
Europe and the UK
Abercrombie & Kent Tours
Contiki Tours
Cosmos
Splendors of Europe
Trafalgar Tours
Brendan
Collette
Directory of Tour Operators in Europe offers a detailed list for various countries in Europe including the UK.
Neilson, a UK-based company, specializes in active holidays and offers shore and yacht positions worldwide.
NST Travel Group has seasonal opportunities near Lancaster and in France.
Maps-Guide offers a list of tour operators throughout Europe.
Globus
Insite
Maupintour
Perillo
Africa
Africa Tour Operators provides a comprehensive list of all tour operators and safari companies in Africa listed by country.
Aviva
Directory of Tour Operators in Africa listed by country.
Maps-Guide list of tour companies throughout Africa.
North America (Including Canada and the U.S)
Jobs@Parks Canada offers Canadian students tour guide opportunities at various national parks, whilst volunteer positions are offered at some of the national historic sites.
Directory of Tour Operators by country including USA, Canada and Mexico.
Canadian Association of Tour Operators offers this member's list showing you all the licensed employers in Canada.
Adventure Camp Jobs
Alaska Tour Operators
Alaska Wildland Adventures
The Unites States Tour Operators Association Members are listed here for easy reference.
Geographic Expeditions has opportunities for adventure travel work.
iExplore offers work adventure travel enthusiasts.
La Ruta de Sonora Ecotourism Association has jobs based in Arizona.
Summit Adventures in California hires guides for several seasonal positions.
Upward Enterprises, Inc. adventure team is always looking for new experienced and dedicated guides.
Whitewater Voyages has whitewater guide jobs in California.
International Bicycle Fund (IBF) based in Seattle needs local volunteers as well as team leaders and assistants for their "Cuba People to People Bike Tour" and "Bicycle Africa Tour".
Travel Works provides working holidays and gap-year breaks for students.
Tour Guide Operators in the U.S listed by Manta.
Antarctica
Raytheon Polar Services offers tour guide jobs for US citizens.
International Association of Antarctica Tour Operators directory.
Asia
Directory of Tour Operators in Asia listed by country.
Maps-Guide offers a list of tour operators found throughout Asia.
Australia and Oceania
Australian Outdoor Adventure Jobs seeks guides.
Pro Dive has tourism employment opportunities in Cairns.
New Zealand Outdoor Adventure Jobs can be found here.
Directory of tour operators in Australia and Oceania
Maps-Guide provides a list of tours in Australia, New Zealand, and Oceania
South America
Tour Operators Directory offers a comprehensive list of tour companies in South America.
Serendipity Adventures in Costa Rica needs tour guides and managers.
Erich Lehenbauer owns a tour operation, organic farm and Bed and Breakfast in Ecuador where he offers board and food in exchange for help with tours and working on the farm.
Quetzaltrekkers in Guatemala need trekking guide volunteers.
Maps-Guide provides a list of tour companies and resources for South America.
How to Find Employer Information
The best way to find information about employers is to use the internet. Most tour agencies and operations have websites that you can browse through to do your research.
Another way to find employer information is to contact them directly and ask for a brochure or company profile. If the company is based locally, make use of local tourism offices to find out as much as you can about the company. Tourism councils usually have information about each tour company that is registered with them. This way you will also know that the company is licensed and has all its official accreditations.
When you look at jobs listing online or in newspapers, companies generally write a short profile or leave some company info in the listing. Use this information where possible and make sure that you can save or copy it to use when you need to prepare for your interview.