Your Job as a Tour Director
We interviewed Cherie Anderson, owner and president of Professional Tour Management Training in Lake Forest, California, to get her insights on what it's like to be a tour director. Ms. Anderson has led tours across the globe. When she is not busy touring, she is training others how to become tour directors, travel staff and guides. In the following interview, she also explains some of the benefits formal training can provide.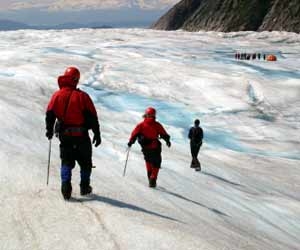 What is the difference between a tour director and a travel agent?
Tour directors are actually out in the field leading the tours. Travel agents work for an agency selling the tours and making the reservations. The two roles are completely different, one is hands on visiting various countries, dealing with people and logistics while the other works mainly in the office.
As a tour director, I don't work in the office at all.
I don't plan, sell or market the tours. I am hired to travel with the tour group. For example if I am doing a tour in Australia and New Zealand, I meet the tour group in Los Angeles and we fly together to Australia, New Zealand and then return from Fiji 3 1/2 weeks later. I go home, I'm finished with the tour. I avoid the office. Travel agents have to know computer codes, the computer programs, selling and all the other clerical work, that's not at all what we do as tour directors.
Most people I train as tour directors and guides don't want at desk job. If you want a steady office position I suggest working in-house for an agency, tour operator, incentive house, DMC, student tour operator, sightseeing company, receptive services company and or a cruise line. There are lots of opportunities for sales, marketing, reservations, account executives, IT, administration, event planners and such. Tourism is full of opportunities and I think it's the best industry in the world. I love it.
How did you become a tour guide?
I do sometimes act as a guide but I'm mainly a tour director, traveling with the tour groups. I was in education, sales and a variety of other careers before I became a tour director. I actually found my way into this industry by volunteering on a cruise ship as a children's activities counselor. That job led to working as a cruise host on the cruise lines. Tour operators hire me to escort their guests on cruises to all their various destinations. That experience eventually lead to escorting tour groups for international tour operators.
How did you evolve from a tour director into teaching courses on how to be a tour guide and tour director?
In 1993, I realized there was a need for a college course that would provide direction to those who are interested in tour guiding, tour directing and cruise hosting. I decided to combine my education background with my career in tours and developed my course which is now available in my "Tour Director Training Guide".
In the United States there is very little available to educate people in tour management. Most people apply to tour operators and state in their applications they qualified because "I love people and I love to travel. " Â That helps but that doesn't mean they are qualified to lead a tour, especially overseas. Tour operators need to feel comfortable that the people they hire know the procedures, briefings, documentation, safety and behind the scenes work that goes into being a successful tour guide and tour director. That is exactly what my course offers.
How did September 11th impact the tourism industry?
Immediately after 911 more people wanted to travel domestically. Tour operators added domestic tours to their itineraries. In that sense it worked to the advantage of the new tour directors. Tour directors could now be trained domestically which is easier for both the tour director and tour operator. After gaining experience they may be placed on international tours.
Another thing that really impacted the tourism industry is that the economy fell after 9/11 and it hurt the incentive market. The same happened with the 2008 recession. As the economy tightened up companies shortened their trips and looked for ways they could still offer incentive trips but more economically. For example, an incentive house that before 9/11 might rent out Sea World for the night would instead offer a "dine around" and take their guests for fine dining.
You've mentioned several times Incentive Houses, what exactly is an Incentive House?
The incentive houses work with Fortune 500 companies in planning their company trips. The trips may be a reward for their employee's job performance, training, meetings, team building, a convention or an introduction to new products. Tour directors, often called "travel staff", are hired to travel to the destination and make sure their guests receive VIP treatment.
The incentive house will then hire a DMC or Destination Management Company which is a company located in or near the trip destination. They hire local tour directors and tour guides to assist the guests by meeting them at the airport, covering hospitality desks, taking them to attractions, leading city tours, assisting with dine-a-rounds, taking them on car or boat rallies, assisting with parties and events and so on. DMC work is fun and a great way for new tour directors to start getting experience and networking. I cover the job responsibilities in my training. My new tour directors have been very successful starting with the DMC's.
I've enjoy working with the DMC's in training and also working as a local tour director when I'm home. It's great for those that don't want to travel and those that need flexibility in their career, like moms. I really enjoy the people I work with. I'm used to working independently on international tours but when working programs for DMC's and incentive house it's all a team effort. It attracts professional sharp people since the clients are company VIP's. I have to say I love the people I work with, many I trained and have known for years.
If someone came up to you and asked you how to get into the tour guiding business what advice would you give them?
Let me help. I'm very upfront, detailed and straight forward in my training. My goal is to help my students to be successful and to get hired. As an educator that's my biggest thrill.
I recommend ordering the "Tour Director Training Guide". It includes all the necessary tour procedures, safety, narration, briefings, handling emergencies, medical emergencies and such. It also covers local, domestic and international careers. The guide includes a list of potential employers and how to gain experience in the industry. I'm also here to help.
I have face to face training throughout the year which gives them the practical experience to go with the "Tour Director Training Guide". The training tours vary so they need to contact me for information or sign up for my Newsletter on https://www.tourtraining.com.
The other thing I tell someone interested in becoming a tour director is, don't quit your day job yet. It may be competitive to become a tour director and you can start getting part time experience pretty much wherever you live. You can work as a step on guide for a local tour operator, work locally for a destination management company, work for receptive services, volunteer to docent at a local museum or historical site or work at a popular attraction. If you live near a port of entry for a cruise line you can start getting experience and networking working as pier staff when the ships dock.
There are lots of ways to gain experience in the field that will help you land a job with a major tour operator if that's your goal.
Finally I tell my students to network. Often a tour director or a guide will be offered a job and when they are not available. The tour operator will ask, "Do you know anyone who can do the tour?" Word of mouth recommendations go far in this business so it's a good idea to build up a network within the tour guide community.