Selling Yoga Related Products
Selling yoga products, such as yoga clothing, props, mats, books, jewelry, DVDs, CDs and lotions is a potential additional source of revenue that yoga studio owners utilize to increase their overall income.
Yoga practitioners reported wishing to spend more money on yoga classes, mats, clothing and other related accessories making this a great opportunity.
According to a Yoga Journal "Yoga in America" survey, American yoga practitioners spend $16.8 billion per year on yoga classes and products in 2016 (an increase of $6.1 billion since 2012). Offering retail products to your yoga studio clients can increase your business, particularly if yoga studio owners are aware of their customers and know what they would be most likely to purchase. Having a retail venture means you must do your homework to find out what customers would be willing to buy, stay abreast of yoga product trends, price your products correctly and keep inventory flowing.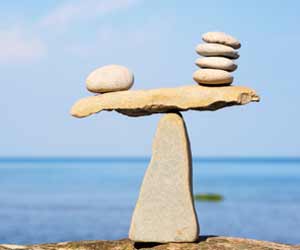 To start studying your students, play close attention to what they wear and use, whether they ask you for recommendations about props or are curious about where you purchase your yoga apparel.
Selecting Products
The first risk in yoga retail is in selecting what to purchase for your studio. One strategy for retail success is to start with the basics for yoga: mats, blocks and nonskid towels, as people often either forget these items or seek recommendations as to which to purchase.
Many yoga studio owners experience success with branding their studios. To do this, you can create shirts with your studio's slogan, logo or label on it, as people enjoy announcing to the world that they practice yoga.
Setting Prices
Yoga studio owners would also caution you about setting the right price for your retail products. Most studios mark clothing up for at least double the price.
Some yoga studios even mark up their retail between 2.1 to 2.3 times the wholesale prices. Keeping your retail price high even when you purchase products at lower cost (by getting them in bulk) can help you increase your profit margin.
Books and CDs are risky retail investments, as studios lose money on these products when students can purchase them for less money at the local bookstore or through Amazon. Another retail trick is to figure out what will strike your students as being unique. Try to develop your eye for what students are wearing and then buy products that are similar to but the same as what they can purchase elsewhere.
Retail Trends
It is important for yoga studio owners to stay abreast of retail trends as well. Yoga-inspired stores often are going green these days, expanding product lines to include those that are organic, fair-trade and eco-friendly. Some yoga studios even have "eco-chic" clothing, including organic dresses, jeans and other types of fashion.
Tracking Sales
Most yoga studios maintain weekly or monthly sales reports to discover what is and is not selling well. If something is not selling, it is a good idea to discount it a great deal to receive your initial investment back. Discounting your products on a regular basis can also attract customers. If certain products still do not sell well, it is best to simply donate them and take the loss, as people will more likely purchase fresh rather than stale inventory items.
Investing in displays is another strategy yoga studio owners use to attract retail sales. Make sure the lighting around your products is pleasant. Adding a mirror if you have clothes is very helpful.
Creating Sales Demand
Yoga teachers and employees are also an important aspect of retail sales. Many yoga studio owners have their teachers and employees wear the clothes they sell to create demand, as people often would like to emulate the teachers and staff members. It is a good idea to train your employees and staff to know your products and thus be able to sell them well.
E-Commerce
Many yoga studios now sell products online, particularly if they have unique retail offerings, such as homegrown podcasts, DVDs and self-published books. Having e-commerce options can be accessible to customers anywhere in the world.