Makeup Artist Jobs in the Fashion and Modeling Industries
Cosmetologists who want to work in the fashion industry must have talent and experience, be persistent, and willing to work very hard. They often network their way into a very competitive and exciting industry by being willing to accept every opportunity that comes their way. Many modeling agencies, even small ones, employ cosmetologists to apply makeup and style the hair of the models for photo shoots, commercials, and fashion shows. Cosmetologists and makeup artists often get their start in fashion work by volunteering their time, as Carmindy Bowyer of "What Not to Wear" fame did. Cosmetologists who want to join forces and gain access to a greater body of work in the fashion industry sometimes become part of agencies which are comprised of hair stylists, makeup artists, and fashion/wardrobe artists who often team up on larger projects such as music videos, fashion shows and film.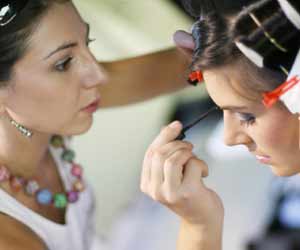 Some cosmetologists also work as independent contractors in the fashion industry, although being successful usually requires a great deal of experience and exposure, and living in an area popular for modeling – Los Angeles, Phoenix, New York, Chicago, Miami – doesn't hurt either. Part-time fashion work can be found in most areas through local modeling agencies, but those interested should be aware that the work won't come to them; cosmetologists interested in doing work on models will need to make themselves known to agencies, often by volunteering as assistants just to get their "foot in the door."
Up-and-coming hair stylist Theodore Leaf of Los Angeles has been able to make a name in the fashion industry through a lot of hard work and by taking advantage of virtually every opportunity that has come his way. The 24-year-old started his career five years ago by doing the hairstyling for a musical in North Hollywood, where he met Katharine McFee of American Idol fame. That led to a stint as the hairdresser in Los Angeles for the Broadway tour of "Annie." Leaf says it's definitely who you know, and he never turns down an opportunity. "I said YES to everything! It didn't matter how much it paid or who was shooting it, I did everything that came along!" he commented on www.FashionPhotographyBlog.com.