Hair Colorist Services
Have you always wanted to see what you'd look like as a blonde or redhead? Many people wonder that same thing, making hair coloring one of the most popular, exciting and creative services that cosmetologists offer to clients.
Hair color can be permanent, semi-permanent, or temporary; it can be subtle or dramatic. Hair color will blend or cover gray, add highlights or lowlights, or just give a client a change.
Depending upon the type of hair color used, hair coloring is a service that requires regular maintenance to avoid what many hairdressers refer to as "roots." Permanent color contains peroxide and will leave the most distinct "line of demarcation" as the hair grows; semi-permanent color fades gradually with each shampoo, so the new growth is not as obvious; temporary color washes out with each shampoo.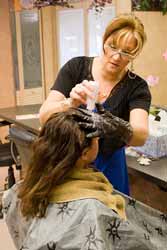 Hair color clients are loyal and regular clients for the cosmetologist, since most will need to come in every month or six weeks to have their color "retouched," which means the stylist will apply hair color to the scalp area, where the natural color has grown in. As a rule of thumb, the farther removed a client's hair color shade is from her natural one dictates how quickly her re-growth will appear, and the more maintenance required. (Consider the brunette who decides to become a bleached blonde; it doesn't take long for the "dark roots" to appear.) But alas, that growth is what keeps a talented colorist busy, and because hair grows an average of about ½ inch per month, cosmetologists who have a high volume of hair color clients usually don't have any trouble filling their appointment books.
A cosmetologist who specializes in color enjoys not only a loyal clientele, but also unending possibilities for creativity through both the shades of color used and the techniques employed to achieve the desired effect. A blonde may come in wanting to add some "lowlights," or strands of a deeper blonde or brown shade the add depth to their color, while a brunette may want to blend and camouflage her gray with highlighting.
The cosmetologist's knowledge of chemistry and the color wheel enable her to devise a formula and a technique that will give the client the result that she is looking for.
Color is most likely the fastest growing and one of the most popular services performed by cosmetologists; therefore, the more creative and skilled she is, the more in demand her services will be. In the past, people would typically consider hair color once they began to turn gray, and would often buy a box of hair color at the local drugstore and apply it themselves, with varying results. Today's hair color clients are much more discriminating. They still may want to cover their gray, but hair color today is a fashion statement, and given its complexity, more and more people are seeking the advice and expertise of a cosmetologist as opposed to "washing away the gray" in their kitchen sink.
Hair color can be applied to the hair with a bottle or brushed on from a bowl. For highlights or lowlights, the cosmetologist may pull the hair through a "highlighting cap" and apply the color to the strands that are pulled through, or she may wrap the sections to be colored in pieces of foil.
For a natural "sun-kissed" look, highlights can also be thinly painted onto the hair with a hair color application brush. Whatever method the colorist chooses, she must have a basic knowledge of chemistry and the ability to access the client's current color, the desired effect, and be able to use the tools and techniques to get from here to there. What works for one client may or may not work for another; therein lie the challenges and creativity involved in the art of hair color.
Most cosmetologists would tell you that they learned the basics of hair color, such as how to do the application, in cosmetology school, but the real "nuts and bolts" of hair color is undoubtedly learned on the job, through trial and error and by seeing the advice of more experienced colorists who are usually very willing to share their knowledge. Successful colorists also take every opportunity for continuing education regarding new hair color products and techniques.
Cosmetologists who choose to specialize in hair color, like Tracey Cunningham, Redken's Creative Consultant for Color and co-owner of Byron & Tracey salon in Beverly Hills, CA, can enjoy both an exciting and a high profile career. Cunningham is a sought after colorist, who has a lot of famous clients, including Jennifer Lopez, Cameron Diaz, and Nicole Richie (the list goes on). According to Redken's website, www.redken.com, Cunningham came to Los Angeles from her native Seattle and word of mouth circulated around town with clients thrilled by her remarkable color skills and sharp eye for detail, and the rest is history. Nothing replaces innovative and creative skills, along with happy (and sometimes famous) clients when it comes to building a colorist's business. Famous or not, clients enjoy telling others who gave them their fabulous red hair or beautiful blonde highlights.