Hair Stylist Jobs
While a good haircut is the foundation of a great hairstyle, a cosmetologist must also have the ability to style hair after it is cut.
Although some cosmetologists allow clients to leave their chairs with a wet head after a haircut, they really should dry and style it first, not only because it better showcases their work, but also because styling adds an additional service for which they can charge the client, and most importantly, it gives them a chance to show the client how to maintain the look themselves. What good is a beautiful haircut if the client has no idea what to do with it when they get home, and ends up frustrated? An experienced cosmetologist will tell you that there is no better compliment than seeing a client in the grocery store or at the mall with their hair looking great, as opposed to looking like they just got out of bed. It is part of a cosmetologist's job to educate their clients, especially in how they can duplicate their new look at home.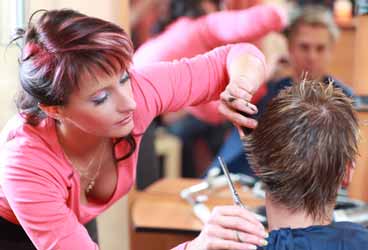 Hairstyling means a variety of things, including blowing the hair dry, curling it with a curling iron, doing a wet set or a dry set, braiding the hair, straightening it with a flat iron, adding hair accessories or extensions, or even "scrunching" hair and allowing it to air dry. Styles can be casual or elegant, and can run the gamut from a quick blow dry after a haircut to an elaborate "up do" for prom or a wedding, and just about everything in between. Many cosmetologists get extra training in specific styling techniques, such as hair extensions, braiding, or wedding styles, which allows them to specialize in these services.
Specializing not only fills a niche in the salon, it also enables a cosmetologist to do more of the work they enjoy the most.
Styling requires that cosmetologists master the use of a variety of appliances and products, and also be able to teach the basics of their use to clients. Although customers who come into the salon once a week to get their hair done still do exist, most clients perform their own maintenance at home, and need the tools and knowledge to achieve their look themselves.
Successful cosmetologists take the styling phase of the service as another opportunity to talk to their client about the products they need, making it easier to close the sale. When people buy their hair products from a cosmetologist, they get advice as to which products will work best for them, and one-on-one training in how to use them. The cosmetologist in turn gets commission on the product sale, as well as control over what their customer is using on their hair so that it will
look its best, thus enhancing her skills and reputation.
Stylist Salaries