Safety Officer Jobs
Assessment and Awareness Sector
Health and safety specialists work in all fields, from the food industry to health care.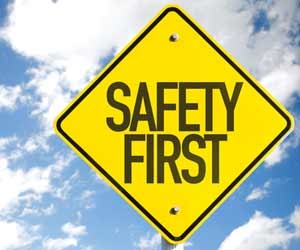 Like any job field involving production and manufacturing, the natural energy sector is in need of skilled and well-trained health and safety specialists who can ensure that safety standards are being met. Given the dangerous nature of certain energy, such as nuclear power, some health and safety specialist may be required to be present onsite at all times, while other industries and sectors may simply require safety officers to travel around and periodically visit different sites where they conduct tests and report any potential problems so that they can be fixed.
More specifically, a health and safety specialist assesses chemical hazards and the equipment used by workers, and takes charge of investigations in the occasion of an accident. Being a health and safety specialist isn't just about preventing illness and injuries, however. While that is a major component of the job, health and safety specialists are also essential for maintaining and increasing productivity in the workplace. Healthy workers mean productive workers, and if equipment isn't safe or does not function properly, it can put both the workers and productivity at risk. Another common aspect of a health and safety specialist's job is to give seminars and onsite training sessions on workplace safety to both employers and employees.
Educational and Training Requirements
Some health and safety specialist jobs require less postsecondary education than others.
As a construction safety specialist, many times you do not need to have completed any undergraduate program. In the United States, what you will need is accreditation as a Workplace Health and Safety Officer under the Workplace Health and Safety Act. Detailed knowledge of legislation regarding workplace health and safety is absolutely necessary. Much of your job will consist of assessing work conditions and recommending courses of action in order to rectify existing or potential problems, so being able to write clear and concise reports is another important part of the job.
Depending on the position, you may be required to have a bachelor's degree in order to work as a health and safety specialist. Alternative energy sectors such as engineering or chemistry will also often require a postsecondary education, and in some cases that may mean a PhD. The kind of accreditation you need in order to be considered also varies depending on the particular position you are applying for. Many times health and safety specialists will focus on one particular field, such as engineering, which would require them to receive accreditation from the Board for Engineering and Technology. Other boards include the Board of Certified Safety Professionals and the American Board of Industrial Hygiene.
Salary and Advancement Opportunities
As with most jobs these days, having a degree will greatly increase your advancement opportunities and will most likely result in a higher annual income. Regardless, the Bureau of Labor statistics reports that health and safety specialists should see an eight per cent increase in job opportunities from 2006 to 2016. US Government jobs in particular are recommended because they provide better security and room for advancement than positions within the private sector.
According to the Bureau of Labor Statistics, the average annual salary of health and safety specialists overall is $63,030. The median salary of health and safety specialists working for the US Government is $68,890, while those who work for consulting services earn a median annual salary of $63,130 and those who work for the state government a median of $49,690. More advantages to working with the US Government or large consulting firms are the bonuses and health coverage. Smaller firms are not in as good a position to offer you insurance coverage and other benefits.