Dog and Cat Show Judging Jobs
If your idea of must-see television is the annual Westminster Dog Show, or you regularly attend your local Cat Fanciers' Association Show when it rolls through your town, and if you know a lot about different canine or feline breeds, chances are you might make a pretty good animal show judge.
While you may never make it to Westminster, there are opportunities to judge local and regional dog or cat shows (also called conformations, as they are judging how well each entrant conforms to the breed specifics).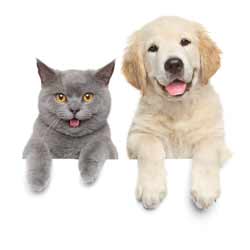 Every judge, regardless of the name or size of the show, must know the breed standards of whichever breed(s) they judge. Judges also require a license earned by passing tests from a breed association or kennel club, and they must be licensed for each breed they want to be eligible to judge. Judges who have successfully studied and passed the testing requirements for all breeds are called group judges or "all-rounders".
There is often travel required in animal show judging, as these events, particularly the smaller ones, often move from city to city across the country. There are approximately 20,000 dog show judges in the U.S. currently, but less than one percent are qualified to judge as all-rounders, as it takes years of experience and amassed knowledge to learn that much about each and every breed.
In addition, in order to become an AKC-licensed judge, you must have a minimum of 12 years of experience showing the breed you want to focus on, you must have whelped and raised five or more litters of the breed on your premises, and you must have bred and raised four or more champions.
If you meet those requirements, you must then pass a mandatory pre-application interview with an AKC field representative.
Only then can you submit your application to the Judging Office. If your application is accepted, your name is published in the AKC "Gazette" and all other members have the opportunity to weigh in on your application and experience. After 30 days, you may take the breed standard exams and return them to be graded. If you pass, you will be granted "Provisional Status," notified by mail and again published in the "Gazette." Then, you must accept and complete five judging assignments for each breed before requesting approval from the Judging Office for "Regular Status."
The Cat Fanciers' Association judging requirements are very similar, with, obviously, the focus on felines. Prospective judges must have 10 years of breeding experience before applying to the judging program. Once accepted, they must pass exams on breed standards and show ring mechanics, as well as apprentice with experienced instructors. Every even-numbered year, CFA judges (no matter their status in the Judging Program–approved, approval pending, apprentice or trainee) are required to write a comprehensive exam regarding show rules and breed standards, in order to ensure everyone is up to date on any recent changes in the industry.
Judges must be at least 21 years of age and possess a minimum of a certified ring clerk license for at least three months prior to application. In addition to this, applicants must complete three error free master clerk assignments, must have a cattery name registered with CFA for a period of at least seven years, and must obtain a letter of recommendation from at least one CFA member club, which also verifies a record of not less than five years of active continuous participation as a club member.
In addition, applicants must have seven consecutive years of breeding experience; the date of birth of the first owner-bred registered litter (a copy of the actual registration bearing the applicant's own cattery name must be submitted); and they must have exhibited at least 10 cats of their own breeding to CFA Grand Champion/Grand Premier status in the appropriate specialty. Applicants are also required to have bred and/or shown cats of their own breeding in the appropriate specialty and earned awards totaling 15 points based on a predetermined point system. Lastly, they must pass the CFA Judge written examination, which is only administered during even-numbered calendar years.