Equine Jobs
Surprisingly, there are many opportunities to work with equine, although most require some other sort of specialized training.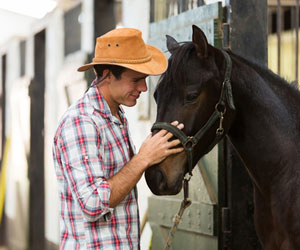 Farmers and ranch Breeders and people in the horse racing industry also regularly work with equine. Often trainers are employed to work with horses on movie sets and television shows. TIP – Check out our film jobs section if the industry is of interest!
Police officers occasionally work with horses in mounted divisions, where they patrol beats on horseback, which allows for more freedom of movement than a traditional police car.
Riders, horse trainers and horse groomers all work with horses on a daily basis, too. If you really love horses, then a dude ranch job might be the perfect summer position.
Large animal veterinarians work with horses, especially those vets located in rural areas.
Some people run horse stables, and they are then in charge of feeding, sheltering and general care of the horses they board.