Doggie Daycare Jobs
Being a doggie day care provider requires not only loving dogs and enjoying their company, but also sales and retail experience, marketing skills, management experience, business savvy, good juggling skills, physical ability (both running your own business and running after dogs all day is tiring!), and a desire to be hands on.
While almost anybody can get or create doggie day care jobs, in order to have a successful business and happy clients, it's best to cover the basics.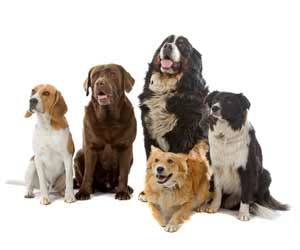 First, get a business license in the city in which you will be operating. Second, look into and purchase insurance (for yourself, your facility and/or home, or any employees you may need).
If you're going to operate out of your own home, you should also look into your city/county ordinances regarding both operating a business in a residential neighborhood, as well as any restrictions regarding the number of pets allowed at one home at one time. If you decide to operate on a larger scale, you'll need to find a facility that offers indoor and outdoor space for the dogs.
The best doggie day care facilities have space for group play (indoors when the weather is bad, and outside when it's nice), room for enough dog runs for timeouts, and, if possible, extra space to segregate the dogs into groups according to size and or sociability.
As a day care provider, you can certainly set your own hours, but if you expect to service clientele who work during the day, you will most likely be working long days (opening early in the morning before the work day starts for most people, and staying open well into the evening to allow those people to come get their pets after work).
Also, the more hours you are open and/or flexible you are in your schedule, the more likely that clients will use your service.
Some doggie day care providers either offer other services, such as grooming, obedience training, massage and walks, or they subcontract these services out by partnering with groomers, dog walkers, massage therapists or trainers to become a one stop shop. Obviously, a big part of running a doggie day care center is sales, both selling your services, cross selling, and even possibly selling products such as collars, leashes and treats.
There are ultimately two ways to go about running your doggie day care center-you can go it alone, as in start your business yourself, do all the work and/or hire staff, or you can buy into a franchise such as Camp Bow Wow or Central Bark USA, the benefits of which include a proven brand name, training and ongoing business support.
Doggie day care jobs can be lucrative, if you have the proper facility to maintain lots of dogs at one time. However, keep in mind that typically, doggie day care providers do not charge by the hour but by the day. To keep costs reasonable, most don't charge above $50 per day (and that's a high for trendy areas such as NYC and LA), and most average about $25 to $30 per day per dog.
Over the last couple of years a new option for making money dog sitting have emerged. Now you can do dog sitting without setting up a actual dog sitting site and jumping through the hoops you would need to to start your own doggie day care business. Two companies are leading the way in helping you do this by matching people who need their dogs taken care of with those who want to host and or feed and walk dogs. Check out both DogVacay and Rover.