Federal Law Enforcement Careers
As mentioned previously, there are some essential differences between local and state level jobs vs. federal law enforcement jobs.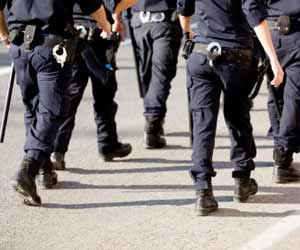 The next few pages on JobMonkey look at federal agency law enforcement jobs.
Desk Jobs Available
The federal jobs profiled in the following pages focus on law enforcement positions. Note that federal agencies have other opportunities in addition to the law enforcement jobs discussed here. Agencies like the FBI or DEA, for example, are massive operations which need people with all kinds of skills – administrative, HR, legal, tech support, and more. This may be of interest to candidates who do not meet the requirements for law enforcement work in the field, possibly because of age or physical limitations.
The Federal Government Pay Scale
The federal government has a pay scale with 15 levels, termed GS-1 (the lowest salary) to GS-15 (the highest). The table below shows the basic GS pay scale. This may be useful when researching federal law enforcement jobs, as federal job descriptions often refer to GS levels to describe pay. Note that these numbers refer only to the annual base salary and are based on 2019 numbers.
SALARY TABLE 2019-GS
GS Pay Scale
Level

Approximate Average Base Salary

GS-1

$19,048 – $23,827

GS-2

$21,417 – $26,952

GS-3

$23,368 – $30,379

GS-4

$26,233 – $34,099

GS-5

$29,350 – $38,152

GS-6

$32,716 – $42,535

GS-7

$36,356 – $47,264

GS-8

$40,263 – $52,341

GS-9

$44,471 – $57,809

GS-10

$48,973 – $63,661

GS-11

$53,805 – $ 69,951

GS-12

$64,490 – $83,840

GS-13

$76,687 – $99,691

GS-14

$90,621 – $117,810

GS-15

$106,595 – $138,572
Locality Pay, Law Enforcement Availability Pay, and Overtime
The pay scale above does not include certain adjustments that increase most federal salaries. Locality pay, which provides pay adjustments based on location, is not included. A locality pay table can be found here: https://www.opm.gov/policy-data-oversight/pay-leave/salaries-wages/2018/general-schedule/.
criminal investigator jobs, is also not included. The same is true of overtime pay. Thanks to these federal pay benefits, most federal employees receive more substantial annual earnings than the base pay suggested by the GS pay scale.