Computer Security Jobs (Cyber Security)
If you love the opportunity to get your hands on computers, especially in programming them, you can fulfill your heart's desire with a computer security job. Not only do you get to program them, but you also get the added thrill of outsmarting the people and viruses that would hack into or harm the system.
The computer security field is ever widening and more and more companies and agencies are always on the lookout to hire people who can help ensure the security of their operational systems and data. As computers increase, and those who know how to use them, so will the number of people who are apt to use them wrongly.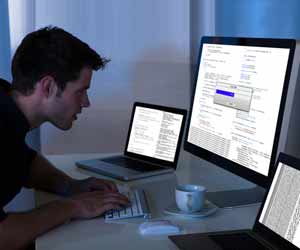 There Are Many Types of Computer Security Jobs Available
There are many different types of jobs available in the general field of computer security. Some of them are:
Computer Forensics Expert
Security Architect
Network Security Engineer
Security Analyst
Intrusion Analyst
Developer of Security Software
System Penetration Tester
Developer who ensures Security in Software Development
Disaster Recovery Analyst / Manager
The Government Also Needs to Provide Computer Security
The government especially is seeking to upgrade its capability to defend its computer systems against hackers from both inside the United States and from opposing governments. They experience hundreds, and perhaps even thousands, of attacks every day – and some of them are successful.
Training Needed for Computer Security Jobs
In order to get the computer security job you want, you will most likely need to have about five year's worth of previous experience in computer systems. This will also require some college courses and possibly some certifications. Experience will also be useful in network security management.
Tasks Involved in the Daily Routine of Network Security Jobs
Some of the tasks that computer network security jobs require will largely depend on the exact responsibilities needed. This will probably include ensuring that the networks are secure, reviewing the access logs to look for network security problems, developing workable security procedures,
provide services for recovery when needed, ensure security of documents and data, and more.
If you love the thrill of hacking, there is a way you can get paid big bucks to do it legally – and avoid jail. Companies, and even the government, needs to be able to ensure that their computer systems and data are secure. This includes ensuring that both Internet security and wireless network security are sufficiently secure. To do this, they will often pay hackers money to try and break into their systems, and then use their findings to help them develop the needed security against it.
Get Qualified with SAP Training
Another way to go is to get SAP Security Jobs. SAP is the name of a company in Germany that is responsible for providing computer security around the world. Jobs with this company and their software can be very lucrative. The company provides computer security training for people internationally through their SAP courses – which can then lead to a position with the company.
Quick Facts About Cybersecurity Work
Title: Computer Security
Degree: Preferably at least a Bachelor's Degree in Computer Science
Systems Needed to Be Familiar with Include: TCP/IP, Windows NT, and Unix
Recommended Certifications: The International Information Systems Security Certification Consortium (a nonprofit corporation) awards a Certified Information Systems Security Professional (CISSP).
Salary: Between $56,000 and $103,000
Helpful Links:
Government Computer News
SAP Security Jobs
National Cyber Security Division (Division of Homeland Security)
International Information Systems Security Certification Consortium, Inc., (ISC)
National Security Agency (NSA)