Unarmed Security Jobs
One of the easiest ways to get started in security is to go into unarmed security jobs. There are many such jobs available all over and the requirements are not that difficult to meet. The need for people to go into unarmed security jobs is increasing as crime increases.
Requirements for Unarmed Security Guards
The requirements for unarmed security guards are rather simple and straightforward. In most states, applicants need to be at least 18 years old, have no criminal record, have a previous employment record, and have their own transportation with a valid driver's license. References will also be required, as well as US citizenship or a work permit. A drug test will probably be required, too. Most states will require at least a high school education or GED, but some, such as Alabama, do not.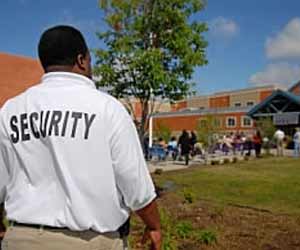 In some states, you may need to get a security license or certificate before you can actually work as a security guard. There may be so many hours of mandatory classes that must be taken prior to employment, and others have classes that need to be completed within so many days of being hired – or both.
The Government Also Offers Some Unarmed Security Jobs
Some government facilities also offer unarmed security jobs. Most of these require previous military experience, and some will demand that you have a security clearance, too. Many of these positions may mostly consist of watching video monitors, and then responding when there is a problem – or contacting the police.
Personality Requirements for Some Unarmed Security Guards
Unarmed security guards are often put in positions where they are required to be courteous and sociable. They may actually be door greeters, serve as concierges, assist people with luggage, questions, etc., and more. Many of them will also need to be computer literate.
Responsibilities in Unarmed Security Jobs
The purpose of an unarmed security guard is primarily to provide a deterrent to crime simply by being present and will usually circulate among the premises. This may mean that you are constantly walking – possibly outdoors much of the time, needing to be alert to detect suspicious activities, and respond to alarms, medical emergencies or other kinds. Security guards may also be required to know first aid, CPR, and how to use an automated external defibrillator (AED).
Other security jobs may also be unarmed, such as positions in cybersecurity. A solid knowledge of computer programming will be required, as well as security clearances – but not always.
Unarmed Security Jobs May Enable Part-Time Work
An advantage of working in unarmed security jobs is that you can often choose how much you want to work. That is, you can go either part-time or full-time, but you may have to work more than one shift at times. Many security guard jobs also require working on weekends.
Except in the field of cybersecurity, unarmed security guards rarely get paid as much as armed security guards. Once you are in the field, take the time and training it takes to get licensed to carry a weapon, and it will enable your career opportunities to expand.
Quick Facts About Unarmed Security Positions
Title: Unarmed Security Guard.
Training Needed: Certification as a security guard.
Education: High School Diploma or GED.
Tasks May Include: Securing areas, protecting people. Miscellaneous tasks may involve greeting people, helping with luggage, act as concierge, providing directions, and more. 
Special Requirements: Needs to be friendly, physically fit may be constantly walking.
Salary: Average salary for unarmed guards is $19,000.
Helpful Links:
Unarmed Security Jobs Washington Post
Security Guard Services Guide