Finding Security Guard Work
The increase of crime in many neighborhoods has made the demand for security jobs that much greater. It also looks like the need for security will be an ongoing matter. This gives the individual with a security job an opportunity to enjoy a field that will always be in-demand.
Requirements for a Security Job
There are many different types of security jobs available. Some of them (unarmed) actually have very few requirements other than what a regular job might require previous job history, driver's license, and be a citizen or have a work permit. Most states require that a security guard have either a high school diploma or a GED, but not all of them such as Alabama. Your criminal record also needs to be clean, and a drug test will probably be required.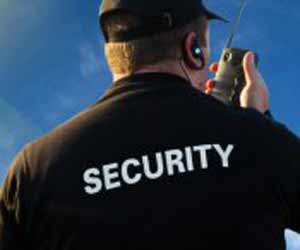 Educational and Training Requirements for a Security Job
Training is required in most states. This consists of courses that you take in a classroom, online, or on-the-job or it can be a combination of all three. This will be necessary for security guard certification in your state. Instruction in firearms will also be necessary if you are going to work as an armed security guard. Some security employment opportunities may require that you have at least an Associate Degree in Law Enforcement (or related).
Many security guard companies now provide their own required training. Once you fill out an application to work with them, then they will provide you with training and certification, and possibly even supply you with uniforms and any other equipment needed.
Security Job Choices That Are Available
If you are just now looking to get started in security, or you want a career in security, you will want to look over the many opportunities that are available. Security jobs cover a wide variety of areas, and some of them will offer a more promising career future than others will. Some of these areas include:
mall security jobs
event security jobs
corporate security
cruise ship security
government security such as Airport Security, Homeland Security jobs, security clearance jobs, bodyguards, overseas security jobs, computer security jobs, and more.
Choosing one field and then aiming toward it is the best way to break into careers in security.
Government Entry Level Jobs Are Available
If you think you can meet the qualifications, you can apply to work for the Department of Homeland Security or the TSA. These agencies provide internships and entry-level positions for those in their senior year of college who are majoring in some field of law enforcement. You will need to be able to pass a background investigation, and a drug test.
You can get a security job and begin your career in security. Many companies, even the government will hire part-time positions if that is what you want. Contact the employer offering the job, and they will tell you exactly how to get a security job with them.
Basic Requirements:
H.S. Graduate
Fingerprint Check
Police record check
US Citizen, or have work permit
Pass drug test
Required Training: Most states have a required training period, and firearms training for armed security guards. Further training or refresher courses may be needed annually. Law enforcement personnel usually do not need any training.
Pay Statistics:
Mean Average of All Types – $26,430
Hourly Average – $12.70
Helpful Links:
Security Guard Training
Securitas Training
Homeland Security Qualification Levels
Security Info Watch Online Magazine