Corporate Security Jobs
One of the best ways to make a career in the security field is to work in corporate security jobs. Providing security for a corporation may be a good way to obtain job security or advance your career. Many companies are looking for security officers and the number is apt to grow in the coming years.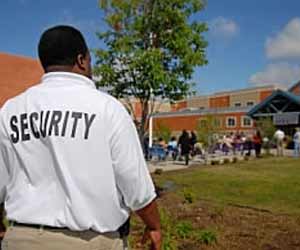 Corporate Security Jobs Provides Many Different Opportunities
There are many different kinds of jobs available in corporate security, due to the fact that threats may come from a wide range of sources including computer hackers and international terrorism. Corporate security jobs range from being a standard security guard, to loss protection, and to ensuring the integrity of computer networks. Growth in the security field, along with the right education, can also lead to becoming regional security advisers.
Licensing Requirements for Corporate Security Jobs
Guards working in corporate security may work day or night, in shifts. This may be a full-time or part-time job. Special training or licensing may be required, especially if you are going to carry a weapon. Computer literacy is usually required.
Different states have different requirements for security guards in terms of licensing and certification. In some states, if a corporation hires you, and you only work there, you may not need licensing except to carry a weapon. Most likely, if you are going to pursue a career in security, you will want to get as high of a rating as possible.
Executive Security Jobs Are Available
Working in the corporate security world may also enable you to provide executive security jobs as a bodyguard. This position will usually require proven experience, expertise in self-defense and firearms, trustworthiness, and a willingness to put someone else's security above your own. Military experience is often preferred.
Corporate Security Jobs Offer Opportunities in Computer Security
Providing security for computer systems is a hot career field these days, for those who have the background training in computers. Protecting the company's computers from hackers, viruses, and misuse by employees is on ongoing task that is sure to challenge the best.
Security Clearances May Be Needed
When providing corporate security services, you may need a security clearance to work at some places. If you have one from the military, it is a good idea to keep it active (by working where one is required) because employers would rather get someone with a clearance than have to pay for the investigation and have to wait up to two years. Special security training may also be required.
Corporate Security Jobs Provide Job Security
When it comes to job security, corporate security careers will not be going away. Corporations will continue to need someone to keep an eye out for their buildings, people, and other property. In fact, a recent rise in crime rates is sure to help guarantee that security guards and other security personnel of all types will be needed.
Corporate security jobs may be available on a part-time basis, too, but they may also require that you be available to work when needed – or even more than one shift. Travel may also be required to other nearby locations.
Quick Facts About Corporate Security Work
Title: Security Guard; Executive Security
Education: Bachelor's Degree, Master's Degree often required for Management Positions
Training Needed:
If armed, will need firearms training and license.
If used as Executive Security, will need martial arts training. May prefer background in Law Enforcement or military.
Security clearance may be needed especially for government contractors.
Certifications Needed: Will vary according to company and state.
Salary (with overtime): $66,000 – $162,000
Helpful Links:
Executive Security International
Security Recruiter
Jobs in Security
ASIS International