Longshoreman Jobs
Longshoremen load and unload cargo on the docks of every port in the U.S. From lashing and unlashing cargos, driving containers around the yard to operating gigantic cranes, longshoremen do it all.
The work can be strenuous, dirty, and dangerous, but the pay and benefits are awesome, and the schedule is flexible.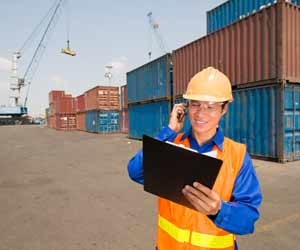 Of course you cannot just stroll down to the dock and expect to start working, as all long shore labor is run through unions, and you must first be a member. The two U.S. unions the ILWU (West Coast) and ILA (East Coast & Gulf) open up their books periodically to new members based upon need. You begin the process working as a casual worker, logging as many hours as you can with the jobs passed over by registered longshoremen. When the union opens the books you compete with other casual workers for a spot based upon the number of hours you have logged. Some may work as a casual for years waiting for the books to open for them, and others may get lucky and have to work only a short time before getting in. Once added to the union books your experience will categorize you as a C, B or A book.
Jobs are called at the union hall each day and those with the most experience (A books) get first dibs on the jobs they want. Once you are a full-fledged longshoremen you can choose to work when you want, and expect to make a very good living. Salaries range from $60-150K per year and can be much higher for specific positions such as foreman and crane operators. If you want to learn more about longshoreman jobs and the process of becoming a longshoremen please see the below links.
— Search Longshoremen Job Listings —
Stevedoring & Marine Terminals
Stevedores are the operators of marine terminals who employ longshoremen to move cargo. In addition to ordering labor for loading and unloading of cargos, stevedores also coordinate storage and transportation of cargo from the terminal to trucks, and trains for delivery to customers. There are many jobs offered by stevedoring companies including superintendent positions that oversee labor for loading and unloading of ships, hazardous material specialists to oversee handling and storage of hazmat, and gear maintenance crews who keep the terminals cranes, shackles and other machinery in good working order. Below are a few links to a few Stevedoring companies: