Dockmaster Jobs
Approximately 71% of our planet is covered in water. There are millions of miles of coastlines and millions of square miles of water to explore. Countless boats cruise, zip, and float across the lakes, oceans, and seas every day. When they come back to shore, the first person they usually see is a helpful, friendly, and smiling dockmaster.
A dockmaster is responsible for the efficient and safe docking and undocking of boats at a marina, port, shipyard, dry dock, or yacht club. These front line guest service specialists are the top employees on the docks. They meet and greet every boat that arrives and bid every boat a fond farewell when it departs. It's a cool job that keeps you active, outside, and on the water.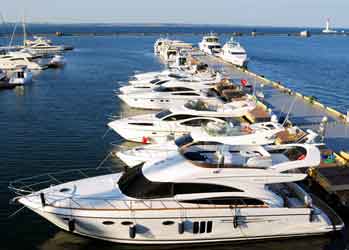 There are over 10,000 marinas in the US. Marinas bring in billions of dollars every year. Their biggest source of income is docking. Private boaters are charged seasonal or annual rates for a slip, or "parking space", at a dock. Fees can range from $10 per foot per month to $250 per slip per month or more. Docking and undocking boats is big business.
From pleasure crafts to freighters, every boater needs a place to dock and store their boat. Dockmasters need to be familiar with all sorts of boats – sail boats, yachts, pontoon boats, fishing boats, jet boats. What they see the most will depend on where they work.
Dockmasters may work alone, in a team, or manage a crew of dockhands. They are responsible for the daily operations of the marina, shipyard, or yacht club. To do this, they need to know docking procedures, size and clearances of different boats, general boat maintenance, and dock safety. They may also be responsible for juggling the location of different boats – kind of like a parking valet.
It's their job to moor vessels, rent boats, follow marina rules, assist boaters, provide information, fuel boats, clean boats, launch ships, store boats, direct traffic, collect dock fees, dock and undock boats, and anything else that needs to be taken care of. They are the frontline marina ambassadors and they have a direct impact on the every user's docking experience.
To become a dockmaster you need to have broad knowledge of the marine and boating industry. Most dockmasters start as a dockhand before moving up the ladder to become a dockmaster assistant and eventually a dockmaster.
To help you learn your way around the docks, you can earn a degree in marina management or earn a marina operations certificate. You can also train to become a certified marine manager. Armed with this knowledge, experience, and a passion for boats you can easily become a dockmaster.
Most dockmasters will ultimately make $35,000 to $50,000 per year. Tips will help to supplement your income too. In warmer climates being a dockmaster can be a full-time, year-round job. In cooler areas, it may only be seasonal. Either way, the job is the same, helping friendly boaters dock and undock their boats.
There's something about life on the water. It's relaxing and refreshing. Whether you're a fishing fanatic or a sailboat lover, you'll enjoy finding a dockmaster job. If making a paycheck by working with boats, talking with people, and being on the water sounds good to you, then pursue a job as a dockmaster. You'll love it.
Quick Facts About Dockmasters
Job Title: Dockmaster
Office: On the docks
Description: Help boaters dock and undock their boats
Certifications/Education: No specific education required, Certifications available
Necessary Skills: Knowledge of boats, docks, marine industry
Potential Employers: Marinas, Shipyards, Yacht Clubs
Pay: $35,000 to $50,000 per year plus tips
Helpful Dockmaster Employment Links: