Just What is a Dude Ranch?
Today's dude ranch is both a place and an experience for families, couples, or singles to enjoy scenic beauty and a taste of the old west.
The dude ranch is often the owner's residence, offering the genuine hospitality of home, and the amenities of modern living. You will find lots of unspoiled country in which to ride horses, hike, bike, swim, sight-see, and generally exhaust yourself. But the dude ranch also has lots of country where one can walk quietly and ponder. And, of course, a dude ranch has lots of hammocks where a cowboy and cowgirl can nap.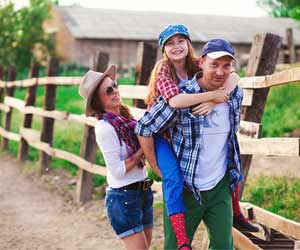 How Guests Spend Their Time
The primary activity of the ranch, besides eating, is horseback riding. Thus the need for people to fill wrangler jobs. The ranch can teach the greenhorn beginner the pleasures of riding, can challenge the experienced rider, or do both for the intermediate or rusty rider. There are no pressures to participate in any activity, but there is plenty to do, with lots of organized, unorganized, (and sometimes disorganized!) group activities.
The ranch also provides time to spend alone, for quiet walks in the hills, reading a book on the porch, or napping in a hammock.
Dude ranches have no interest in the chrome or glass of the modern corporate hotel chain. Ranch life is comfortable. Guest quarters are simple, modern, clean and comfortable.
Each room is unique, not a homogenized cookie cutter shape of the next. Unlike theme and amusement parks, guest bedrooms are only a short walk from activities and meals – they can take a break, rest and relax any time they want.
The Dude Ranch Lifestyle
Ranch life is informal, relaxed, and friendly, an opportunity to meet and enjoy others and make new friends. Home cooked meals are served family style, with guests and staff sharing the same table. The ranch also has frequent cookouts and other opportunities for folks to get to know each other without pressure. Ranch staff are truly interested in caring for the guests. They lead all activities, are available to help in any way, and enjoy being with their "city cousins."
Dude ranches are smaller than theme or amusement parks and cruises ships. Many have a maximum capacity of less than 30 guests, and very few take more than 90 guests.
A dude ranch vacation is not inexpensive – feeding and caring for horses is costly! You will generally find guests to be more professional class and upscale. You will also find that the owner's, managers, and the staff treat their guests with a much higher level of respect than would be expected at a theme or amusement park. Courtesy is a cowboy virtue.
You will never hear guests referred to as crowds that need to be "controlled" and/or "managed." Ranches never make their guests wait! Never! That's not the culture of dude ranches.
Nor will you be taught how to handle guests that become enraged by unpleasant surprises or over-stimulated by noise and heat and endless lines.
You will be taught that your job is to provide your guests with the best vacation their family has ever had. This is the way we think about every customer – they are guests. This is the way that you will be expected to think about your guests.