Types of Dude Ranch Jobs
Now that we've talked about some of the different types of dude ranches, let's talk about the different types of dude and dude ranch jobs. Remember, this discussion is very broad, and maybe a bit vague, as every ranch is unique.
Most jobs are seasonal, either summer in the north, or winter in the south deserts. Some ranches, however, have broad "shoulder" seasons or are open year round, and may have year-round positions. "Off-season" positions are typically broader in their job description responsibilities, as there are fewer people to run the ranch.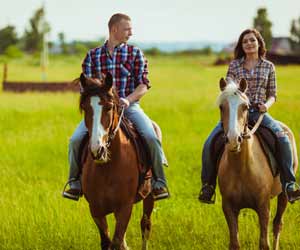 The summer dude ranch vacation season is longer than most college students' summer semester break.
There are really three summer seasons: the "spring shoulder" (mid-May to mid-June) where occupancy is typically about 50% with adults and home-school families. Peak or high season (Mid-June to mid-August) is when all of the children are out of school. The last is the "late shoulder" (mid-August to the end of October) tends to again be mostly adults or foreign families whose children start school later.
Many dude ranches are looking first for folks who can work the entire season (mid-May until the end of October). Second they are looking for folks who can work the "shoulder seasons" either the early part of the season or the end of the season. Finally, they hire those people who can only work peak season (early June to mid-August). A word to the wise, if you are competing for one of the peak season ranch jobs, where competition is greatest, apply early.
Some ranches have internships where employees may be able to obtain independent study credits in a variety of equine, recreation or hospitality studies.
The jobs themselves are usually either classified as:
House jobs include chefs and/or seasonal cooks, dining room staff, housekeepers, and office staff.
Barn jobs typically include wranglers, children's wranglers/counselors, maintenance, grounds keepers, naturalists and fishing guide jobs.