No Two Ranches are the Same!
Dude ranches may sound like they are all the same. Nothing is further than the truth. Each ranch reflects the tastes and philosophy and preferences of its owners, and each is truly unique. This page will discuss some ways in which they can be different. This might be a good place for you to write those questions that you will use to impress your interviewer!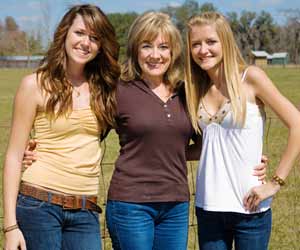 First, there are two different groups of ranches, based on their seasons:
The northern ranches have a summer season that typically runs from mid-May until mid-September, or thereabouts.
The southern desert ranches (Arizona, Texas) often have a season that runs from mid-October until mid-May (or thereabouts).
A few ranches, both north and south, are open year-round.
Ranch Size Matters
A very important consideration when considering a potential ranch is its size.
Small ranches can be more informal, maybe more relaxed, and offer guests greater flexibility in services and activities. As an employee you may prefer the more relaxed and informal relationship that you enjoy with the owner/manager, at the same time, you better be ready to wear two or three hats in the same day. On a small ranch, it is not unusual for housekeepers to lead nature hikes, and wranglers to wash dishes, and cooks to sing!
Larger ranches are more formal, with different kinds of work divided among different teams. Job descriptions are more rigid, but also more well defined. Relationships are more formal. "House staff" and "barn staff" may not share any common responsibilities. The largest ranches are usually divided into departments, each with their own managers.
Larger ranches may offer some amenities that the smaller ranches don't such as staff housing with private or semi private bedrooms, or activities such as tennis or water skiing.
Some ranches are actually cattle operations that also accept guests. These are almost always "adults only" as cattle can be very dangerous.
Ranch Theme & Focus
Some ranches, while not being real cattle operations, may have some cattle for controlled guest activities. These activities may include team penning or "pushing" cows from one pasture to another.
Some ranches are actually resorts that also have stables. These ranches may have their own golf courses, tennis courts, and feature fine dining. If these types of ranches sound appealing then check out the JobMonkey beach resort jobs section.
Some ranches, while focusing on horses, may offer a number of other soft adventure activities such as mountain biking, rock climbing, trap and rifle shooting, white water rafting, fly-fishing, water skiing, ballooning, or even Frisbee disc golf. Take note that rafting companies often located near dude ranches recruit for rafting guide jobs every year.
Some dude ranches focus on adults only while others are more "family oriented." The "adults only" ranches tend by be a bit more upscale and quiet. These ranches sometimes feature gourmet food and extensive, impressive wine lists.
Family oriented ranches will talk about "hearty western" meals, and don't often present wine lists at all. They will talk about their children's programs.
Children's programs can be of two types: all day – all inclusive programs, and programs that aim to help parents and their kids play together. One program is not better than the other, but they are very different!
If you are a wrangler, you need to know the ranch's "horse program philosophy." Does the ranch have special education for the rank beginner? Are private lessons offered? Is this a nose-to-tail program? How are the preferences of proficient riders met? Where does jogging and loping fit in? Can guests bring their own horses? How are children handled and taught?
One very important consideration is whether a ranch belongs to the national Dude Ranchers Association and/or to its state dude ranchers association.
Ranches who belong to one or more of these associations have agreed to certain basic standards of authenticity, business practices, cleanliness and safety. They also agree to be inspected on a regular basis.
Wranglers, be aware that ranches who are members of the Dude Ranchers Association will expect you to successfully complete a standard "Wrangler Safety Course" during your orientation. This is an excellent experience, in part because the author of this article is a Certified Instructor!
If the ranch you are considering does not belong to one of these associations, then you want to find out why. You might also want to be sure that hey have the basics of liability and workers compensation insurance to protect you. A word to the wise – ask about their safety records for both guests and staff.