Become a Children's Wrangler!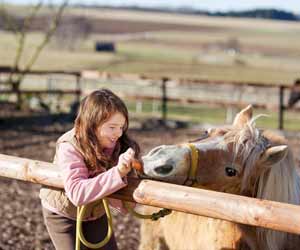 Children's Wrangler Responsibilities
Dude Ranch Children's Wrangler responsibilities vary between ranches. In general, however, this is what they do:
Constructing and maintaining a children's program for pre-schoolers through young teens (5 to 15 years old). Curriculum and lesson plans should be based on introduction and acquisition of skills; and
Should include fishing, riding, archery, astronomy, baking/cooking, Native American lore, first aid, orienteering, and leatherwork.
Age-appropriate activities to draw from including pony rides, attending naturalist activities with your young guests, hikes, outdoor and indoor games and crafts, swimming, etc.
Acting as an advisor to those children who are working on Boy Scout and Girl Scout merit badges.
Overnighters, family games, and all other children's activities.
Ring Master for games
Note: the Children's Wrangler also shares all other wrangler duties listed in the "Wrangler" Job Description including feeding on a rotating basis; pulling, tacking, brushing, picking feet, etc., assisting in bussing tables and washing dishes, etc. This position is not appropriate for those who are not strong "team players."
Other duties as assigned.
Job Requirements
Experience working with and enthusiasm about children
Child care and teaching/leading experience,
Professional teaching and scouting experience strongly preferred.
Moderate horseback riding and equine knowledge. Extensive horse knowledge and skills is preferred, as this allows the employee to also assist with wrangling duties.
Able to lift and carry 85 pounds a minimum of 100 feet while working at altitudes of 8,000 feet or higher
Drive vehicles with stick shift.
Able to communicate to kids and parents with tact and clarity, and exhibit a patient and knowledgeable attitude with horses.
High enthusiasm and energy.
A genuine love of working with children.