Working for a Christian Business
What Employers Look For
The education you'll need to work in one of these businesses will depend on the position you are seeking, and the business itself.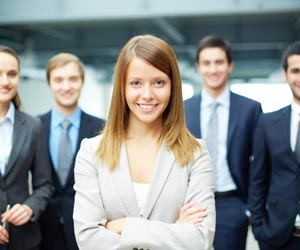 There are large Christian book and gift stores that have a national presence and hire several people for each store, including managers, assistant managers, and cashiers. Managers may be required to hold a bachelor's degree in business or related field, but often having several years of retail experience, and especially prior management experience is all that is required. Other positions such as customer service or cashiers will not require a college degree.
When it comes to book publishing jobs, most jobs with publishers will require a bachelor's degree. Editorial positions will require a degree in English, journalism, communications, or related fields. Sales or management positions may require degrees in business, marketing, or a related discipline, while general office positions generally do not require a degree.
A degree is also not a requirement when it comes to food and beverage service positions at restaurants, coffeehouses, and clubs, although management positions at some operations may require one. To become a manager at a Christian food service facility, you may want to look into acquiring a degree in food service or hospitality management.
Most manufacturing jobs do not require a degree or any post-high school education. The exception to this may be supervisors, managers, executives, and administrative positions. These jobs would require a degree related to their field of expertise.
Required Knowledge, Skills, and Abilities
Book store and retail managers will need to have general knowledge of the industry, what books and items sell well, and who the store's customers are. Managers should also have some knowledge of marketing methods and techniques they can use to attract customers to the store.
In addition, managers need to have knowledge of good management techniques, since they will be supervising other staff members. Other book and retail store employees will need to have some overall knowledge of the retail sales and store environment.
Writers, editors, and others in the book publishing industry need to have knowledge of how the industry operates, as well as an extensive command of the English language. They should also have some knowledge of other facets of the industry.
Food and beverage service providers should have excellent customer service and communication skills. These jobs require servers that are patient and work well under pressure. Managers in this field should have previous management experience at a food service operation, and have excellent communication and customer service skills.
The skills and abilities you may need to land a manufacturing job vary according to the company, product, and job. Manual dexterity and experience handling machinery may improve your chances of getting this kind of job, as well as the ability to work well as part of a team.
Average Salaries
Like many other Christian-based jobs, the salaries for these positions vary widely and depend on the type of position, the size of the operation, and may depend on your previous experience. Book and gift store salespeople and managers usually earn an hourly wage. Some may receive commission or bonuses based on sales. Publishing houses and companies pay their employees a yearly salary. Food and beverage personnel receive an hourly wage as well as tips. Most manufacturing employees receive an hourly wage.
The U.S. Bureau of Labor Statistics salary information can be used as a general guideline of what people in these positions earn. The figures that follow were based on information gathered in 2008. Book store employees earned an average hourly wage of $8.32, while supervisors and managers earned an average wage of $16.22 per hour. Editors at publishing houses earn an average yearly salary of $49,275, while writers of print publications earned an average salary of $33,425. General office employees of publishing companies earned an average salary of $25,355. In the food and beverage service industry, the median hourly wages (including tips) of waiters and waitresses were $8.01. The middle 50 percent earned between $7.32 and $10.35. The lowest 10 percent earned less than $6.73. The highest 10 percent earned more than $14.26 an hour. For most waiters and waitresses, higher earnings are primarily the result of receiving more in tips rather than higher hourly wages. In the manufacturing sector, supervisors earned an average salary of $38, 064 per year, inspectors earned an average annual amount of $20,093, and packers earned an average annual salary of $18,678.
Christian Business Career Paths
If the Christian business is large enough, workers have the potential become supervisors, managers, or acquire positions with more responsibility and pay. If you are working for a smaller company you may be able to attain a higher level job at a larger Christian-based company. People may choose to open their own businesses after working for others and learning that business for a period of time.