Pastor Jobs
What is it like to be a pastor, and how do you become one? JobMonkey interviewed Pastor Tim Iseringhausen, lead pastor, Christ Lutheran Church, Bexley, Ohio. Here's what he told us about working as a pastor for his church.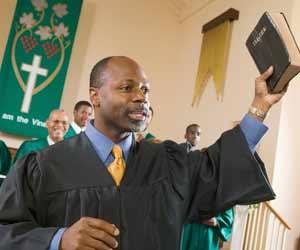 Q: What special training or education was required to obtain your job?
A: I received a four-year undergrad degree at Wittenberg University in Springfield, Ohio, and then four years post-graduate studies at Trinity Lutheran Seminary, where I received my Master of Divinity Degree.
Q: What unique characteristics or qualities should a person have to do this job and what special challenges do you encounter on the job?
A: Must be a person of faith … one who in the midst of calm or chaos knows that God is 'in charge' … and can communicate that grace to others; a firm understanding that God has a purpose for me and for all … a striving to model the Christian faith and life at all times. Characteristics that come in handy (and I don't profess to have them all!): prayerfulness, patience, courage, determination, listening skills, able to articulate, write…the ability to be a 'non-anxious' presence in conflict … focused on Christ at all times and in all ways.
Q: What special challenges do you encounter on the job?
A: Every day is different … dealing with issues in a congregation of people … dealing with issues going on in individuals and families…bringing the gospel of Christ to folks in ever new and creative ways … on call 24/7, 365 days a year.
Q: Why is your job important to your community?
A: The most important question any of us will ever answer in our lives … more important even than family, career, wealth … anything, is this: Who is Jesus to you? I am privileged and honored to assist folks in their own journey to answer that question and then to live it out.
Q: What do you like the most about your job?
A: See my answer above … Plus the varied opportunities to be a part of people's lives in their most sacred moments.
Q: What is the most rewarding aspect of your job?
A: See the answers to the previous two questions, plus, when someone comes to me and says that somehow I had a positive impact on their faith journey and relationship with God in Christ Jesus.
Q: What advice would you give someone who is interested in pursuing this career?
A: Pray … discern … then pray some more. Listen to the Lord's leading in your life and heart.