Christian Teacher Jobs
Today there are more Christian-based career paths for educators than in years past. Whether you are currently an elementary, secondary, or pre-school teacher, college professor, or school administrator, the number of faith-based options for you continues to increase.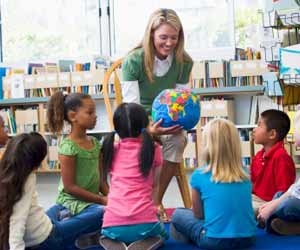 Since violence has erupted in a very high profile way among public schools, many Christian parents have sought alternatives for their children. This has led to the establishment of Christian elementary schools, as well as middle and high schools. In the past, many churches offered preschool services, primarily to their parishioners, but also to the community at large. Since larger churches often housed several Sunday school classrooms for children it made sense to use them as preschool classrooms during the week. Churches were able to provide a valuable service to parents, as well as bring in an additional revenue stream. Historically, most Christian-based elementary and high schools were Catholic schools, again providing this educational service mainly for their own members, but also making the schools available to other families in the community. Additionally, some affluent communities established Christian-based (many of them Catholic) preparatory schools for boys or girls. The mission of these schools was to prepare their students for entrance into leading colleges in the United States.
Today there are thousands of Christian elementary and secondary schools of many denominations and non-denominations. In fact, the growth of Christian schools in the United States has been described by some writers and educators as the fastest growing educational movement in the country. In fact one Christian Web site claims that at one time Christian schools were being established at the rate of two per day. This is an astounding statistic, and one that bodes well for educators who wish to work at a Christian facility. There are also many small Christian colleges and universities in the country, which hire instructors on a staff and adjunct basis. So whether you wish to teach pre-school or college, or become a principal or administrator of a school, opportunities are available.
You can find faith-based teaching opportunities at Christian daycare, pre-school, elementary, secondary, preparatory, and post-secondary institutions. If you enjoy working with kids, teaching and learning new concepts, and seeing them develop new skills and abilities, teaching may be the right career path for you.
Teachers provide classroom instruction for their students. Depending on the school, its methodology, budget, and size, teachers may be able to focus on one or two subjects, or may be required to teach every subject to their students. Teachers at Christian schools also provide educational material related to God and faith, and how faith should play a role in the children's daily lives. Teachers provide reports to their students' parents about how well their child is progressing. Teachers will also help prepare their students for college entrance tests. Educators at the college level will provide coursework applicable to the Christian theology, while instructors at Christian seminaries create and teach coursework that primarily prepares students to become members of clergy.
As mentioned, the outlook for Christian teaching jobs is very positive, especially for preschool teachers. According to the U.S. Bureau of Labor Statistics, in 2008, preschool teachers, except those teaching special education, held 457,200 jobs.
Fifteen percent of this total number were employed in private schools like Christian schools. Employment of preschool teachers is projected to grow faster than the average job through 2018, and faster than other kinds of teachers. The Bureau of Labor Statistics says job prospects are expected to be excellent due to high turnover. In fact, employment of preschool teachers is expected to grow by 19 percent from 2008 to 2018, which is faster than the average for all occupations. When it comes to elementary and secondary teachers, employment is projected to grow about as fast as the average for all occupations. According to the Bureau of Labor Statistics, job prospects are best for teachers in high-demand fields, such as mathematics, science, and bilingual education, and in locations that are less likely to attract teachers.
The number of jobs for kindergarten, elementary, middle, and secondary school teachers is expected to grow by 13 percent between 2008 and 2018, which is average growth. The number of college level jobs is expected to grow at a rate that is faster than average, growing 15 percent by 2018.