What You Can Do On A Gap Year
Planning your gap year? Trying to figure out what you can do on a gap year can be a bit overwhelming. Luckily, you can pretty much go anywhere and do anything. The world is yours to explore and that's what taking a gap year is all about.
The main goal of a gap year is to spend it constructively. Focus on building your resume, developing your skills, making money, networking, and having fun. Tap into your interests, passions, and dreams. Brainstorm every possibility to see what you can do on a gap year.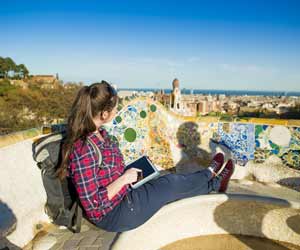 The gap year options that you can pursue are essentially limitless. Start by asking yourself: What are you keen to do? Where do you want to go? What is your budget? Find something that you enjoy and use your gap year to not only grow as an individual but also to figure out what you want to do with your life.
The key to a successful gap year is planning it out in advance. There are options both domestically and abroad. You can split up your time and jump from one thing to the next so that you can experience as many things as possible or you can focus solely on one amazing thing. It's totally up to you – and it's totally flexible.
Most people tend to work, travel, volunteer, adventure, study, or a combination of all of these things. You can craft your own gap year from scratch or sign up for a gap year program that customizes and maximizes your gap year experience. Both are fantastic options.
If you're scratching your head and wondering what to do on your gap year, here are a few ideas designed to inspire you and get the gears spinning so that you can see what is possible:
What's the one common thread between all of these gap year ideas? They are all meaningful, constructive, and worthwhile ways to spend your time. Choose any of these options and you'll become a more interesting person. These are all things that you can add to your resume that will help you find an internship or a job in the future. They can help you figure out what you like and don't like to do – a key ingredient for a happy life.
Hopefully, this list opens your eyes to what is possible on your gap year. Probably the most important thing about gap years is to have fun and to successfully bridge the gap from one stage of your life to the next.
What you may find is that often gap years will open up doors through experiences and connections that you never even knew existed. This is why taking a gap year may be the best thing you ever do. Gap years allow you to explore what is possible.
Take a gap year and live life to the fullest. This extended time period of work, life, and play will help pave the way to a successful future and you'll have a good time while you're at it.