Medical Industry Employment
Healthcare Jobs Pay You To Save Lives
When was the last time you went to the doctor or needed medical care? Everyone will need the help of a healthcare professional at some point in their life. This global industry employs millions of people all over the world. Are you ready to join the ranks of the healthcare industry?
This rewarding industry features an abundance of cool jobs where you will play a positive role in the health and happiness of others. When you get paid to help people live long and happy lives, you'll know that you're making a difference in the world. What could be cooler than that?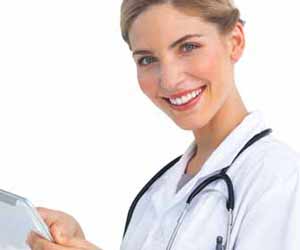 Whether you work on the front lines or behind the scenes, every job in the healthcare industry is important. As an aspiring healthcare pro, it's up to you to find the right job for you. Will you be a registered nurse, nurse practitioner, physician assistant, pharmacist, EMT, paramedic, speech-language pathologist, surgeon, psychiatrist, dentist, radiologist, anesthesiologist, general practitioner, phlebotomist, therapist, and the list goes on…
If you're not sure which of these jobs is right for you, then you're in the right spot. In the following pages and links, you'll learn about the in-demand opportunities in the healthcare niche. The world relies on healthcare professionals who get paid to do cool things like:
The healthcare niche literally affects everyone, everywhere. If you want to make a difference in the world then you need to find a medical job. JobMonkey's Medical Jobs guide is your one-stop shop for everything you need to know about Nursing Jobs and Medical Careers. Browse through this in-depth resource and learn about job search advice, educational requirements, job descriptions, pay structures, specialties, and so much more.
It's time to open your eyes to the amazing and rewarding world of healthcare.