Seagoing Employment Category
Do You Want To Find Work On The Open Ocean?
Did you know that there are roughly 139.7 million square miles of ocean on Earth? That's just over 70% of the Earth's surface! Right now as you read this, there are millions of people living and working on tens of thousands of boats floating on the open ocean. Will the next job on your resume be some type of seagoing employment? Quite possibly.
The oceans offer a monstrous opportunity for adventurous folks to make a living. Whether you work on cruise ships, yachts, freighters, container ships, sailboats, ferries, dive boats, military ships, or commercial fishing vessels, there are plenty of opportunities for you to pursue. Which of these options is your "office" of choice?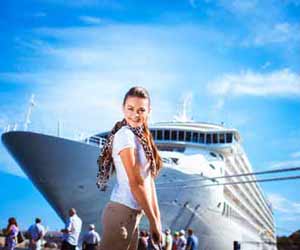 A wide variety of cool employers are keen to hire you for seagoing employment in numerous different areas. In the following pages, you'll learn about seagoing niches such as:
Whatever niche you choose, these opportunities will take you far from land and pay you to work on the Arctic, Pacific, Atlantic, Indian, or Southern Oceans. The oceans might be the biggest "office" in the world. There are full-time, part-time, and seasonal seagoing employment opportunities scattered around the globe. It's up to you to decide what type of job is best for you – and JobMonkey is here to help.
Maybe your next job will be as a:
Learn more about the possibilities in this niche in this free JobMonkey Industry Guide. In the following pages, we'll shine the spotlight on all sorts of cool jobs that will pay you to work on the water. If you want to find seagoing employment, you'll find all the info that you need to know right here on JobMonkey.com.