Entertainment and Arts Employment
Is The Arts & Entertainment Industry Calling Your Name?
Do like to be entertained? Of course, you do. And so does everyone else in the world. People all over the globe enjoy tuning into the latest major motion pictures, award-winning Internet shows, internationally broadcast satellite radio, or prime time television. The arts and entertainment industry is big business – and that means lots of job opportunities.
Whether you work in the spotlight or behind the scenes, jobs in the arts and entertainment industry are always appealing. No matter what type of skill sets or experience you possess, there are lots of opportunities that you can pursue in this cool niche – and JobMonkey is here to help you find the perfect job for you.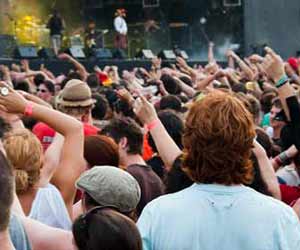 In the JobMonkey Arts and Entertainment Industry guide, we highlight entertainment niches like:
JobMonkey's detailed content provides helpful insight into the pros and cons of different arts and entertainment jobs, while providing you with relevant job search advice, in-depth job and employer profiles, and more. Dive in and you'll find a wealth of free information that will help you find the perfect arts and entertainment job for you.
— View Entertainment and Music Job Postings —
When you focus your job search on the arts and entertainment industry, you'll open up a world of exciting employment possibilities. Will the next job title on your resume be: brand ambassador, music analyst, writer, producer, stagehand, camera operator, foley artist, set designer, digital artist, director, animator, songwriter, YouTube Partner, reporter, or sound engineer? Which jobs do you plan to pursue?
Find an arts and entertainment job and you could get paid to:
Create new dance moves for a Broadway musical
Act in the next Hollywood blockbuster
Select the top hits to be played on satellite radio
Stand in as an extra in your favorite prime time sitcom
Be yourself on a reality TV show
Entertain passengers with magic tricks on a cruise ship
Perform mind-bending stunts
Produce viral YouTube videos
All over the world, people earn a living do these cool things and you can too. Right now is the perfect time to explore these cool jobs and careers. Tap into the power of the JobMonkey Arts and Entertainment Industry guide. You'll be amazed by what you can learn about this cool niche.
Explore these arts and entertainment job options below.