Jobs with Hapag-Lloyd
Hapag-Lloyd is a global shipping company with the capability of moving 5.5 million containers on its fleet of 115 ships each year.
The company has been serving the needs of customers since 1970, when Hamburg-Amerikanische Packetfahrt-Actien-Gesellschaft (Hapag) and North German Lloyd (NDL) merged. Hapag-Lloyd acquired CP Ships, a British-Canadian shipping line, in 2005.
Hapag had been in business since 1847 and North German Lloyd was founded in 1857. Both of these companies offered passenger service to emigrants who wanted to relocate to America. Over time, Hapag focused its attention on shipping cargo, while NDL was known as the line that transported the largest number of passengers annually. The companies first entered into joint ventures in the 19th century, and joining forces was a natural progression from this professional relationship.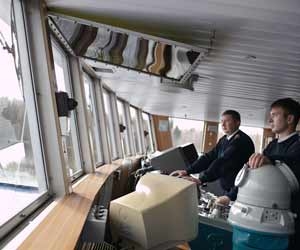 Both companies saw their business affected by World War I and World War II. After the end of the Second World War, Hapag and NDL focused their businesses on the container market.
This company employs more than 7,100 people in various positions. For example, Hapag-Lloyd hires workers for the following positions on board container ships:
Chief Officer
Second Engineer
Officer of the Watch
Ship Operation Officer
Engineer of the Watch
Electrician Engineer
People looking for short and long-term work are encouraged to apply for these positions. An apprenticeship program is offered to German-speaking people on board the company's ships as well.
Workers at Hapag-Lloyd are entitled to the following benefits:
Accident insurance
Allowance for uniform and work clothes
Anniversary payment
Company pension
Employee savings bonus
Profit sharing
Positions at Hapag-Lloyd
Hapag-Lloyd posts available positions on the Career Vacancies section of the company web site. Candidates can conduct a search by country, location, level and category to focus on the types of positions they are best suited for.
How to Apply for a Job at Hapag-Lloyd
This company doesn't use online application forms for job candidates. Instead, it prefers to receive a cover letter and resume from people who are interested in being considered for a job. Hapag-Lloyd accepts applications by e-mail and regular letter mail from job seekers.