Maritime Careers – Land Based
If working on a ship isn't for you, don't worry – you can still sink your teeth into the maritime world. There are simply thousands of related jobs for land lovers. Or, alternatively, maybe you're interested in working in a water-related field, but not on a ship. How about a job at a maritime museum somewhere in the world?
The world of marine science, preservation, and exploration is booming.
On the following pages we profile these positions in detail: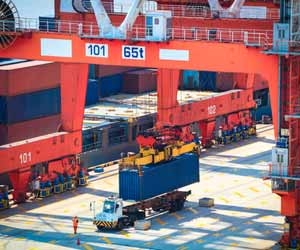 To get you started, however, here is a list of interesting land-based positions in the maritime industry.
Shipping/Workboat Related Jobs:
Port manager: Ports need managers in order to regulate schedules. In this position, you'll maintain contact with all the ships coming in and out of your port, as well as manage the dockhands, tugboat workers, and others involved with keeping the port operating.
Ship Superintendent: Shipping companies often have entire fleets, sometimes with dozens of ships. The superintendent, who is sometimes the owner of the fleet, keeps track of which ships are hauling what where.
Marine Surveying Jobs: Surveying in the maritime world requires advanced education, but this business can be very lucrative. If you enjoy the navigation part of this industry, surveying may be good for you.
Maritime Lawyers: Just like with most industries, there are a number of lawsuits in the maritime industry every year. If you have a background in law and you love working near the water, this is an ideal career choice.
Shipbuilding: For those interested in engineering or construction, the shipbuilding industry might work well for you. As new ships are needed, you'll work to design them, taking into account that they need to float while carrying a certain amount of weight and working to incorporate the latest in technology.
Marine Biology: Most kids go through a phase of wanting to be a marine biologist around the time they first see a dolphin show or visit an aquarium, but there's no reason to "grow out" of this phase if you love science and the water.
The seas are home to a number of interesting plants and animals, and if you work as a marine biologist, you'll get to do things like study sea creature behavior, work to preserve the environment, and explore the depths of the ocean.
Drayage/Harbor Trucking: When cargos arrive in port they are generally placed on trucks or trains for delivery to customers throughout the country. Drayage and trucking companies hire organize the clearance and shipment of cargo, and hire truckers to delivery it.
Customs Brokers: According to U.S. Customs there are over 11,000 licensed customs brokers in the United States. These brokers assist importers and exporters to meet customs requirements governing products entering and leaving the U.S. This is an enormous industry that offers many jobs. The work requires a working knowledge of entry procedures, duties and taxes and classification and valuation of goods entering and leaving the country. You can find additional information regarding the requirements for customs brokerage at the USCBP website, or by visiting the website of the National Customs Brokers and Forwarders Association of America.
Ship Chandlers: Today's cargo ships are not afforded much time in port, and must do their shopping quickly to ensure they have all necessary provisions onboard prior to departure. Ship chandlers provide ships of all kinds with a one stop shopping center for ordering food and supplies that can be quickly delivered to the ship while alongside. Every port has a list of such companies that offer warehousing and delivery jobs.
Marine Technicians: Although every ship has an engineering crew dedicated to the maintenance of the mechanical and electrical systems onboard, it is impossible for them to be experts at fixing every problem. There are hundreds of companies hired by ships to provide engineering and electrical support and expertise to avoid delays and keep ships moving from port to port. Below are links to a few companies providing such services:
Radio Holland
Sperry Marine
ABB Turbo
Shipyards & Drydocks: Ship yards and dry docks offer an additional employment avenue for welders, engineers and electricians. Every large port will contain at least one shipyard or dry dock facility employing in these positions. Below are a few examples in the Pacific Northwest:
Todd Pacific Shipyard
Lake Union Drydock
Everett Shipyard
Maritime Schools and Academies: With the present training and certification requirements for the merchant marine industry there is a huge demand for schools and academies offering such courses. If you have the necessary experience and interest in teaching, Maritime schools and academies need individuals able to teach these courses.