Working on Workboats
Whenever you drive anywhere, you have the possibility of running into a number of different vehicles on the road. A garbage truck hauls away bags of trash from a neighborhood. A couple cruises by in a convertible, enjoying the sunny day.
A pickup truck with a bed full of lumber passes you on its way to a construction site. Now imagine you saw a convertible piled high with garbage – you'd do a double take, wouldn't you? Specific cars are made to do specific things.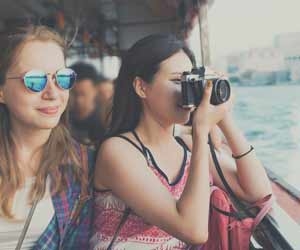 In the maritime industry, specific vessels are made to do specific things as well. If you want to work on a ship, one of the first things you have to ask yourself is "What kind?" All ships have a captain, deckhands, etc., but doing certain jobs on specific kinds of boats is related to what kind of vessel serves as your office. Here is a breakdown of some of the different types of workboats found all over the world:
Passenger Ships
You can find passenger ships in all shapes and sizes. For vacationers, cruise ships are popular, and there are many different kinds of jobs on cruise ships. However, you can also find passenger ships that carry people (as well as their vehicles and other cargo) to specific destinations. On a small scale, there are ferries that serve as moving bridges. On a large scale? Think Titanic. Transatlantic voyages are still done today. In the maritime industry world, ferries – no matter how large are small – are known as Ro-Pax ships and are categorized by the number of passengers they carry, their size, and the height between decks.
Bulk Carriers
Some of the largest ships in the world are the bulk carriers, which are designed to transport dry goods. The largest of these are the Capesize carriers, which haul hundreds of thousands of tons (that's right – tons) of coal and other industrial cargo. In the industry, these ships are known as "bulkers," and they are extremely inexpensive to operate, considering that the only other alternative to transport dry goods across a body of water is airplane.
Tankers
Tanker ships are the sisters of the bulk carriers. They do the same job, but instead of dry goods, they transport liquids. Crude oil tankers are especially popular on the seas, but a number of other products can be transported as well. There are even special types of tankers that transport chemicals. Tankers carry gases as well, often in a compressed state.
Containers
Container ships are the UPS or FedEx trucks of the shipping world. The concept is simple – what if you have to ship something but don't have enough of your product to fill an entire ship? Containers allow you to fill a standard-sized metal box instead, and then all of the boxes going to the same port are fit onto the ship in a space-efficient pattern. Containers have been used since the 1950s, and the largest types are known as Suezmax ships and Malaccamax ships.