Jobs at Sea
There are seven continents on planet Earth – Africa, Antarctica, Asia, Australia, Europe, North America and South America – and Caroline Sturgeon has been to six of them.
That's thanks in part to her eight-year career as a 3rd mate and a 2nd mate with the Military Sealift Command (MSC).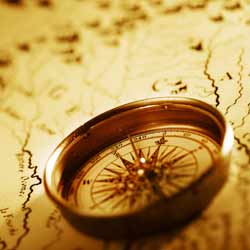 In this role Sturgeon worked on a government contracted vessel and directly with the Navy to provide and carry supplies, fuel, oil, ammunition, food and other needs for Navy ships out to sea, at war, and patrolling the waters. As 3rd mate Sturgeon was the ship's navigator responsible for setting the vessels voyage plan and ensuring all bridge equipment was operating properly. She also managed the watch teams and was the person in command during her watch. She plotted and dealt with course changes, traffic, radio commutation and all aspects of operating a vessel and managing the crew of the vessel.
While commanding her vessel, she was at sea protected by cruisers and destroyers who were in many cases, at war or going out to war.
Prior to this career, Sturgeon had plenty of experience doing some of her best work in the water. She attended Lock Haven University on a swimming scholarship, where she planned to study marine and environmental science. She planned on pursuing that career until she met a representative from the MSC at a career fair her senior year. While she earned her degree from Lock Haven, she then attended New York Maritime Academy, where she graduated in 1999 and began her career at sea, going to work with MSC.
Opportunities like the one's Sturgeon pursued with MSC include a number of unique positions for skilled government employees who serve onboard ships in civil service positions. According to the MSC web site, MSC operates a growing fleet of over 40 ships and these types of opportunities on these ships:
Ammunition ships (T-AE) – providing Navy combatants with ammunition
Combat stores ships (T-AFS) – by means of underway replenishment provide all types of supplies including: fresh, chilled and frozen food, dry provisions, repair parts, and mail
Dry cargo/ammunition ships (T-AKE) – multi-product ships delivering ammunition, food, limited quantities of fuel, repair parts, and expendable supplies to combatants
Fast combat support ships (T-AOE) – high speed vessels designed to carry fuel, ammunition and supplies
Underway replenishment oilers (T-AO) – provide underway replenishment of fuel to Navy combat ships and jet fuel of aircraft aboard carriers at sea
Fleet ocean tugs (T-ATF) – provide towing services and operate as platforms for Navy divers in the recovery of downed aircraft and ships
Hospital ships (T-AH) – serve as emergency, on-site trauma centers for the care of combatant forces and, as required, for humanitarian relief
Rescue/salvage ships (T-ARS) – assist in rescue and salvage missions
Through her job with MSC, Sturgeon would work a minimum of four months on, one month off, 4 months on. In her case, many times she would work for as much as 6 months at a time, and remembers a period early in her career where she wasn't home for over a year and a half.
Working as a woman in this type of job, traditionally held by men, was not so much an obstacle with her crew mates, but at times cultural differences in certain areas hurt communication and mission goals.
"Some countries just weren't used to seeing a woman in command," says Sturgeon. "So that made it difficult at times, especially with communication. However, the men on these ships were very supportive and looked at me as someone who was just trying to do a job. Some of the older and more experienced workers looked at me like they were my grandfather or uncle and they tried to be that type of figure. It was fine, and really not an issue. We all had a job to do and we went about it and did it."
One thing that stands out about this type of career, says Sturgeon, is that anyone – even those without a high school degree, can get a job in this field. The best part about this career, says Sturgeon, is that you can get hired and get experience, then work your way up through advanced training and education. The hard part? It takes time and attending maritime school is tough. Getting various licenses in the maritime industry is the equivalent of studying for the MCAT or bar exam, both tests one needs to pass for graduate school or to become a lawyer. For example, a deck officer has to pass seven exams, and in two of them you need to get in the 90th percentile to pass.
"Anyone can be captain of a ship if they put their mind to it," says Sturgeon, who has since retired from working at sea and lives in Chesapeake, Virginia where she is now the Director of Student Support at Mid-Atlantic Maritime Academy. "It's all about sea time, and learning and continuing your education while working. But you have to put in your time, and you have to pass your courses. It's like getting your doctorate, but it can be done. The best part is you can work and apply what you learn while working. This is great for those who want a chance to work right away."
The hardest part of this job is what led Sturgeon to get out of it and into a school teaching career – time away from family. Shortly after the birth of her second child Sturgeon spent 3 and a half months away from her newborn and other family members, and that is when she realized she needed to do something else.
"You are out in this huge ocean and you really see how tiny you are," says Sturgeon. "It really puts things in perspective."
But it's an experience she will never forget, and for many, a career at sea, a chance to see the world and experience something most people never get a chance to do, is something that many people will take advantage of. The opportunities are endless, she says.
"I don't think many people my age have been able to see different cultures like I have, and how big this world really is," says Sturgeon. "It also helped me earn my independence and become a strong successful woman."
In her current position she teaches entry-level workers and guys that are transiting from the unlicensed ranks to officer rankers. She also works in the Mariner Advocacy Program where she helps mariners with the Coast Guard application and renewal process and provides advice on career paths and options.
She still looks back and has fond memories of her career at sea.
"You can see the world, you can see other culture and people in other parts of the world live," says Sturgeon. "You have a great opportunity in a career that takes you places you would probably never go. It's an experience I'll never forget. I know there are people doing the job now experiencing these things, and I know they are enjoying these opportunities. You can go anywhere and achieve anything in this career if you are willing to put the time and work in."