Work as a Ranch Wrangler
Johanna Stouder has worked at Vista Verde Ranch in Steamboat Springs, Colorado for almost three years, including the last two years as a wrangler. She recently talked about working as a wrangler – here are her thoughts:
Can you describe what a wrangler does, what is the best way to summarize what a wrangler does on a dude ranch and the job duties this person has?
Stouder: A wrangler provides a compelling experience on horseback.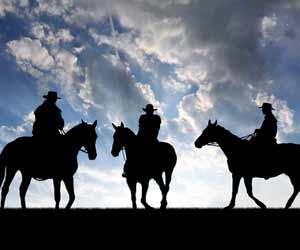 They interact and engage guests in a way that the guest can relate to in better understand riding and working with horses and enjoying their experience. They provide knowledge of the surrounding scenery and trails. They have the knowledge to keep guests safe on a horse and first aid training. A wrangler's job is also to care for horses in making sure tack fits properly, horses are being fed and watered and noticing when things go wrong. A wrangler also must be an entertainer. They need to be aware of the guest's comfort level and make them feel either safe or challenged.
How many wranglers typically work at a dude ranch? Do wranglers like this work at any other jobs or in other businesses?
Stouder: We have 10 wranglers and I would assume that is about average. Most of our wranglers are in college, but a few work seasonal jobs and come back for multiple seasons in a row.
What makes a person a good wrangler? What are the skill sets that make the Wrangler a good one?
Stouder: Patience, perseverance, adaptability, humility, a love of people and horses are the things I would say are the most important. People are always changing their minds and looking to be entertained so if you can adapt quickly and be patient you are usually able to handle any situation that arises. When working with horses you have to persevere and be humble. A horse is never going to do exactly what you think it's going to do and it's your job to make the guest like what the horse does. You must truly enjoy people and love horses to be with them 24/7 and enjoy it. The best wranglers are always passionate and able to impart their enjoyment of horses and riding to others.
What type of education/background/experience do most wranglers have? Where do wranglers get their training?
Stouder: Most wranglers have just ridden off and on. They usually have ridden a bunch when they were kids or in high school but are now focused on school or life. Wranglers are usually trained on the job.
What is the day in the life of a wrangler like at your ranch? Can you describe what they may do?
Stouder:  A summer day starts at 7:30 a.m. and 15 minutes earlier for the two wranglers rounding up the horses. We run the horses in and start saddling. We saddle until we are finished, then do a few odd chores, such as feed the horses, fill water, fly spray, vet care and scoop poop.
At 9:30 rides start going out. Everyone helps get people on horses and rides out on the trail. Around Noon, rides start coming back in. Everyone helps tie up horses, loosen cinches, remove bridles and water horses. Lunch is at 12:30. At 1:30 we all come back, scoop more poop and start getting people up for rides at 2 p.m. Rides get back by 4 p.m., when we unsaddle, run horses out and scoop more poop. We usually end the day around 4:45-5:00. Then we have dinner and evening activities which include barn dance, campfires and entertainment for the guests.
Are there more men or women in this position?
Stouder: Actually most of our applicants are women, we have to look to find an even number of men. However some ranches lean toward hiring men because of the cowboy image but I think it's a good mix.
What other information can you share about working as a wrangler?
Stouder:  Usually wrangler crews are close knit and have lots of fun with each other. They are also some of the coolest people on the ranch so they have to put on a good image because everyone is watching them all the time.