Nanny & Au Pair Jobs In Europe
Most North Americans have never heard of working as an au pair in Europe, which is a shame because it is one of the easiest jobs to find. An au pair is essentially a live in babysitter, a young person who is using the work as a way to live and support themselves while they experience a new country and learn the local language. Most au pairs are no older than 30 and typically female, although there are exceptions.
An au pair looks after the children and shares in the chores in the household. An au pair is not a nanny or a maid; you are not there to look after the children full time or to do all of the housekeeping. You may be expected to help clean the house, but no more than any other household member. The same can be said for cooking.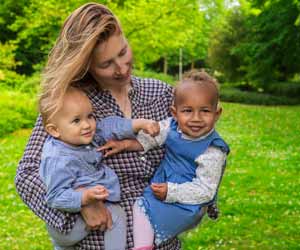 You might be required to fix lunches for the children during the day but you would not be preparing all the meals. Au pair literally means 'on par' and while it is a paid position, you are considered part of and equal to a family member and not an employee.
Western Europe in particular has a long history of employing au pairs and there are many jobs to be had in Switzerland, France, Germany, Italy, Spain, the UK, and Ireland. The most popular au pair countries of Germany, France, Italy, and the UK hire a total of almost 60,000 au pairs every year. While the UK is responsible for half of those positions and so not really relevant for someone coming from North America, it still leaves a lot of jobs to choose from.
You do not need to have any special credentials to be an au pair, but it does help if you can show that you have some experience in dealing with children. What is going to be more important is your personality and how well it fits with both the children and the parents of the family you will be living with.
Many countries have specific au pair visas that will allow you to be employed only for this type of position. The visa requirements are much less stringent than standard work visas, which is why this type of work is so popular for young people that are only wanting to live abroad for a year or two.
For most countries the maximum age to get an au pair visa ranges from 24 to 30 and some countries will require that you are in the middle of or just finished school, or that you are single. Almost every country also expects that the mother tongue of the country is not your first language and that you will be taking language classes while in the country. You can find specific visa and wage information for the popular au pair countries in the Au Pair in Western Europe and Au Pair in Eastern Europe portions of this article.
There are literally hundreds of websites and placement agencies that specialize in connecting potential au pairs and families, with many of them being country specific. If you do not have any experience working as an au pair, you may want to consider using a placement agency that offers support for you if your family suddenly reneges on the employment terms. Being left stranded literally on the doorstep in a foreign country is not the best way to start your living abroad experience!
Many placement agencies will provide help in the event of a broken contract or payment issues and this is definitely help that is worth a bit of extra money if you do not have experience. That being said, there are all kinds of websites that simply provide a way for au pairs and families to find each other online. No matter which method you choose, just remember to be as clear and up front as possible on your expectations for the contract.
— View Au Pair / Nanny Job Postings —
This type of work is going to be a new experience for almost any North American since au pairs are not common in the US and Canada. Keep in mind that you are going to be living with a whole family. As such, there are inevitably going to be personality clashes amongst the family members and between members and yourself. Don't hold grudges and be prepared to hash out strong emotional issues, just like you do with your own family.
Being an au pair is a fantastic opportunity to become immersed not only in the language, but in the culture of your new country. In many ways, you will have an entire family helping you learn all about their home country. You will learn far more about real life there in just a few months then with almost any other kind of job. A good au pair family knows that they are there to teach you as much as you are there to help them. So learn the language, get the kids to teach you all the great slang, and enjoy your time with your new family.