Where to Find Jobs in Europe
Ireland & the UK
There is a huge amount of economic growth in Ireland right now, and with a booming economy comes all kinds of jobs. Much of the labor market is covered by Eastern European immigrants, but there is plenty of work in the tourism and high tech sectors. Ireland also has some of the largest mines in the world and so there is work available for those experienced in the mining sector.
In the UK, pub jobs are still widely available, as well as summer camp jobs and high tech jobs in the IT sector. There are also a lot of US government jobs in the UK at the many military bases that exist there, and plenty of oil related jobs due to North Sea oil production. There are also many different work farm and work exchange opportunities all over the British Isles.
Definitely check out these work abroad programs pulled together by JobMonkey's editors.
Jobs in France & Germany
In both France and Germany there is still plenty of work for English teachers and au pairs and both types of jobs are fairly easy to obtain work visas for.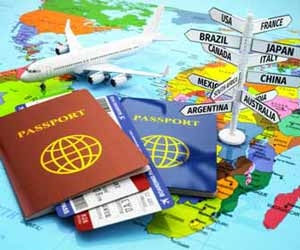 In fact, providing English instruction for business people is in particularly high demand in both countries. Germany also has lots of work available at US military bases with the US government, as well as lots of growth in the high tech sector. France, on the other hand, also has plenty of work in the summer for city tour guides and lots of hospitality jobs at resorts on the Mediterranean and West coasts of the country. And because of the way their immigration laws are structured, France is one of the easier countries in which to start a business or consulting firm.
Italy, Spain, Greece
All three of these countries have huge numbers of tourism jobs available during the summer months, particularly on the Mediterranean coast or as a city tour guide in the major Italian cities. Both Italy and Spain also have lots of English teaching positions, although finding legal work in either country due to visa restrictions is difficult. The same availability of jobs coupled with visa difficulties can be said of au pair jobs as well. Finally, there are many US government jobs in Italy at the US military bases.
Eastern Europe
The two sectors that have high employment opportunities in Eastern Europe right now are English teaching and the IT sector. Business consultants are also in high demand, particularly in countries that are just now stepping into their roles as part of the European Union. This is particularly true of Poland and Romania, where governments are trying to create strong western based economies.