European Beach Resort Jobs
We have all heard about the luxurious beauty of the Mediterranean beach resorts in Europe; the hundreds of miles of beaches, the opulent hotels, and magnificent vistas. Of course, the real trouble is being able to afford to go there. But nothing says you can't enjoy all those same amenities while you are working at the resort.
There are dozens of resorts in France, Monaco, Spain, Italy, and Greece around the Mediterranean, as well dozens more beach resorts on the Atlantic and North Sea coasts. And the Europeans love their beaches, with millions of them flocking to resorts every July and August.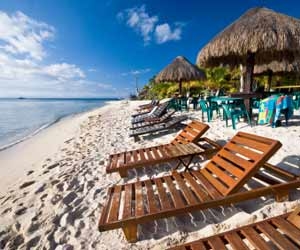 With that many people going to enjoy the surf and sun, there are countless job openings at those same resorts as well.
Usually, the biggest benefit of working at a beach resort is simply the location itself. To be able to enjoy the sunny beaches day after day as well as experiencing the night life that only thousands of tourists brings is worth a lot right there. But many resorts will also offer discounted or free use of resort water equipment as well. So if you are big into sailing or SCUBA, this benefit suddenly becomes worth a lot in terms of income for you.
Recruitment for European resorts usually starts early in the year, around February or March. If you want to arrange a job before you head to Europe that is the time of year to apply. If you want to work under the table or missed the standard recruiting period, plan to be at the resort area around May or June. The tourist season will have just started and resorts will be looking to fill gaps from workers who they had hired but who never showed up. Be careful working illegally at resorts; there is always someone else looking for work so they could fire you or not pay you and easily hire someone else. You would be out your wages with nothing you could do about it.
As with the European Ski Resort Jobs page, this page will only deal with beach resort specific jobs. All of the other hospitality jobs that can be found at resorts in the hotels, bars, and restaurants are discussed in the Hotel Jobs page and the Bar/Pubs/Restaurants Jobs page.
Many of the beach resort specific jobs have to do with providing instruction and water activities for the guests. All of the better resorts offer all kinds of sailing, surfing, and SCUBA activities and equipment with their vacation packages and they need qualified people to manage those activities. In addition there are also on-beach positions for lifeguards and attendants. For most positions, you can get away with knowing only the rudiments of the local language, but having a second language under your belt will be a huge advantage in getting these jobs.
Water Sports Instructor

There are a number of different types of water sports that large resorts offer to their guests, including surfing, water skiing, canoeing, and kite surfing. Depending on the size of the resort, they may need instructors for each of these activities, or they may be looking for someone who can teach a couple of different ones. Your job will be to develop different lessons of all levels for teaching the water sport, and to make the activity fun and exciting, regardless of the guest's skill level. You will need to be skilled in the activity, and having some experience in teaching. Some certification from a formal body such as the USA Water Ski Organization or the American Canoe Association will also be extremely useful.

Sailing Instructor

Resorts can offer sailing classes in all sizes of boats, but the most common is the single sail dinghy. With this job, you are teaching guests the rudiments of how to sail a small craft on their own. For this position, certification as a sailing instructor will be required for applying at almost any resort. The most commonly known in Europe is training from the Royal Yachting Association (RYA) in the UK, but instructor training through the American Sailing Association (ASA) is also fine.

Snorkeling/SCUBA Instructor

As a SCUBA and snorkeling instructor you will be teaching all levels of courses, from beginner lessons for children and standard PADI certification courses, up to deep water and night diving. Certification as an instructor from the well known Professional Association of Diving Instructors (PADI) is absolutely essential for getting this job, and experience as a diver in a number of locations is also a plus.

Aerobics/Yoga Instructor

As an aerobics or yoga instructor, you are going to be leading daily classes for guests of all ages and skill levels. One of your primary responsibilities will be to help develop an aerobics or yoga program that the guests find enjoyable and beneficial. While certification is useful for this type of position, experience and an upbeat personality count for even more.

Tennis Coach

Your primary function as a tennis coach is to provide instruction to individuals and small groups during their stay and to be responsible for ensuring the maintenance of the tennis courts and equipment. Duties may also include arranging weekend tournaments and other match-ups for interested guests. A list of important tournaments that you have won is going to be the single biggest factor in getting this job, along with certification as an instructor. A second language will also be a valuable asset for this position.

Head Instructor

As Head Instructor, your primary responsibility is to coordinate the activities of all the other instructors employed by the resort. You have to ensure that their instruction and activity meet the standards of the resort as well as ensuring that the activities are enjoyable to the guests. Another responsibility is ensuring that there are sufficient 'rainy day' activities that have been arranged and prepared in the event of bad weather. Certification and a few years experience as at least one type of instructor is going to be essential for this role, as well as some management experience.

Lifeguard

Lifeguards are trained to prevent someone from drowning and to administer first aid in the event of an accident. Lifeguards also tend to act as de facto security on the beach, ensuring that people follow the rules of proper conduct. Every resort beach will have a number of lifeguards on staff during the normal swimming season. Proper training and certification is essential for this job, with the most widely known certification coming from the Red Cross (Search for, "Lifeguarding and Swimming"). Larger beaches are also going to want some experience as a lifeguard, and some may even specifically ask for open water experience.

Pool/Beach Attendant

Somebody has to hand out the rental towels and umbrellas and pillows to the tourists who head out to the beach each day. Every resort offers amenities for their beaches, some paid for, some not. Either way, there are quite a few jobs that involve sitting in a hut on the beach handing out items to guests and collecting them at the end of the day. A fairly simple job, but certainly you need no experience and there is no stress.
So many resort jobs will get you outside and enjoying life outdoors but prepare to be friendly and helpful, no matter what the circumstances. The resort you work at will determine what style and nationality of tourist will be most common.
Search our list of Resort and Hotel Job Openings right here.
If you have the experience or skills such that you can afford to be choosy in the job you take, keep the type of clientele in mind as they will play a huge part in how much you enjoy your beach job.