Summer Tourism Jobs in Europe
If you only want a job in Europe during summer break, the tourism industry has thousands because the high season for most of Europe is during the summer months.
Working at a beach resort for the summer is one very obvious approach but there are a lot of other tourism type jobs as well:
Look into tour guide jobs in places such as like London, Rome, or Paris. All you really need is to know the local language and to be enthusiastic.
Many countries, the UK in particular, have camps during the summer where you could be a counselor. There are all kinds of camps, ranging from language to horse back riding, so you should be able to find one that fits your interests.
If you are an adventurous type, be a travel guide for student groups. You will get to travel all over Europe and see all the sites. Of course you have to be able to handle a job where you are a 24-hour babysitter, tour guide, and tour planner all in one.
For many European countries like France and Germany, You will be able to go to the country on a student visa and work full time during the summer when school is not in session.
Otherwise, working holidays are great fit for summer tourism jobs since you generally cannot work longer than six months with one employer anyway.
This is just a taste of the possibilities for work during the summer.
Visit the JobMonkey List of Summer Jobs – you never know what might show up there!
Seasonal Job Opportunities by Country
Every country in Europe is going to have hospitality jobs available in one part of the country or another, although for an American looking for a job, there are far more opportunities in Western Europe than in Central and Eastern Europe.
The typical vacation season for Europe is the summer, with most Europeans taking vacation in August.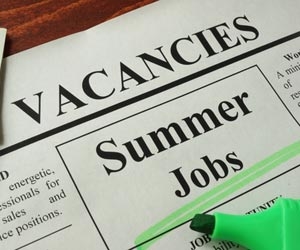 This means that for any beach resorts, Mediterranean resorts, and outdoor guiding activities, it will be easiest to get work in the summer.
Of course for ski resorts in Switzerland and Austria and so on, the winter is the high season and the best time to find work. If you definitely want to work in a particular country and you are going off season, you are best off looking for work in the major cities where tourism does not dip as far in the low season.
The types of jobs that can be found are given for some countries below and are broken down by area and time of year.
France
France is famous for three tourist destinations; Grande Paris, skiing in the Alps, and taking in the sun on the Mediterranean. Paris has tourists at all times of the year, but summer is the most popular and so it is when most of the tourism jobs for things like city tours can be found.
The Mediterranean coast, particularly Nice and Cannes, and the West coast around Biarritz are the most popular beach destinations, but there are resorts all along both coasts as well that are open from May to September.
And finally, if you happen to hit France in the winter, head to the French Alps and ski resorts such as Chamonix, who hire all kinds of people for the ski season from November to April.
Germany
Because of Germany's strong economy, it is a great place for hotel jobs and restaurant jobs year round, provided you have can get a visa that allows you to work. There are only a few ski resorts in Germany so if you are looking for that kind of work, you are better off going elsewhere. In terms of beach resorts, Germany does have a few along its North coast, but the waters are cold, and the resorts tend to cater more to German tourists. This means that some German language skills are essential if working at the resorts.
Greece
Greece is a great country to go to if you want a tourism job during the summer. There are oodles of beach resorts both on the mainland and on the islands and there are all kinds of guiding and bar and hotel jobs in the larger cites like Athens. There are also lots of Mediterranean cruises that start and end in Greece, so it may be possible to arrange a contract that starts and finishes with a Greek port of call.
Italy
Italy is the quintessential tourist job destination. There are ski resort jobs in the Alps in the North part of the country in the winter, beach resort jobs on the Adriatic and Mediterranean coasts in the summer, and restaurant and hotel jobs all year long. There is also a huge demand for city guides in Rome, Venice, Pompeii, and many others during the summer. Like Greece, you could also use Italy as a start/stop point for a cruise contract. Now there is just the little matter of the difficulty in getting a work visa in Italy.
Spain
Spain is fantastic in the summer, and the hundreds of thousands of tourists who descend on its beach resorts would agree. All along the Spanish Mediterranean coast there are resorts, all with plenty of job postings at the start of the summer season. Spain also has jobs for adventure and student guides in the summer, although your office may actually be somewhere like the UK.
United Kingdom
The British are daft for their pubs, and your best shot at a tourism job in the UK is still with working the taps at a local. You have a better chance of finding a job at a pub outside of London, particularly in the North. More of the jobs outside London will also include accommodation as well. Surprisingly, there are some beach resorts along the North Sea coast, but they cater almost strictly to Brits. Still, jobs are to be had there during the summer. And of course, city tours and the like in London during the summer are always popular and always looking for guides to hire.
Bulgaria
Bulgaria has a number of resorts on the Black Sea, some of which cater almost exclusively to Bulgarians and others that are more for other European tourists. Either way, there are jobs available, although you will probably need at least some Bulgarian to be able to work here.
Turkey
Turkey tends to get more English speaking tourists than any other Central or East European Country. Your best bet is to look for work at the larger hotels in Istanbul that cater to the business crowd. The fact that you speak fluent English should be a major help in finding work, although you will be expected to understand and speak some Turkish. The other opportunity for work is with the resorts along the Aegean Sea, although some Turkish will definitely be required as it will be mostly Turks at the resorts.